Emirates named World's Best Airline at Skytrax World Airline Awards 2016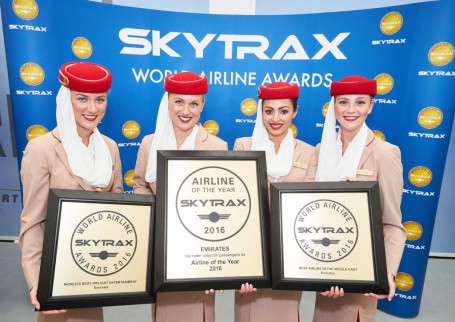 Emirates was today named the World's Best Airline 2016 at the prestigious Skytrax World Airline Awards 2016, in addition to scooping up the awards for World's Best Inflight Entertainment for a record 12th consecutive year, and Best Airline in the Middle East.
Based on the results of the largest airline passenger satisfaction survey in the industry, the World's Best Airline Awards are considered a global benchmark of airline excellence. This year's Skytrax awards were based on a total of 19.2 million completed surveys covering 280 airlines, by customers hailing from more than 104 countries. The Skytrax survey measures quality standards across 41 key performance indicators of front-line products and services in the airline industry.
This is the fourth time Emirates has won the top accolade since the airline awards were introduced 15 years ago; the airline won the first ever Skytrax World's Best Airline in 2001, again in 2002 and in 2013. In total, Emirates has won a total of 20 Skytrax World Airline Awards since 2001.
Sir Tim Clark, President Emirates Airline, said: "We are honoured to be recognised by the prestigious Skytrax awards. Emirates has always put our customers at the heart of what we do, and we work hard to deliver the very best experience possible to our customers at every touchpoint, every day, all around the world. We constantly invest in our product and services, both on the ground and in the air. We listen carefully to our customers, and then relentlessly challenge ourselves to deliver and exceed expectations. The fact that these awards are based on the direct feedback from passengers is gratifying and wonderful recognition for all of the hard work that's gone into creating the Emirates experience."
Commenting on the Award, Edward Plaisted, CEO of Skytrax said: "This fourth World's Best Airline title for Emirates is a fantastic achievement and true testament to the airline's popularity. To satisfy customers from such a wide and diverse passenger base is not an easy task, but Emirates continues to gain superlative feedback from customers for its product and service offering from the front to the back of the aircraft. The IFE that Emirates provides is a continued focal point for passenger praise and it is important to note that customers were not only impressed with the programming but also the superior hardware standards, particularly for the A380 fleet."
Emirates is the world's largest international airline, with an extensive network that has grown to offer its customers a choice of 154 destinations in 81 countries across six continents, with convenient connections through its hub in Dubai. The airline operates one of the world's youngest modern wide-body fleets. These aircraft are not only more efficient to operate, but are also more comfortable for passengers to fly in – enabling Emirates to install and offer the latest onboard products.
Over the past 12 months, Emirates has rolled out a number of new product and service investments, including the unveiling of a new 777-300ER Business Class seat; expanding its global Emirates Lounge network to 39 with the opening of new facilities in Cape Town; launching new children's toys and activity kits both on board and in the lounges and new amenity kit bags for First and Business Class travellers, investing over US$140 million in its wine programme for all cabin classes in 2015 alone, and much more.
On most of Emirates' fleet, including all of its A380 aircraft, passengers in all classes can enjoy unprecedented Wi-Fi connectivity. On average, over a quarter of all passengers use the internet during their flight. This figure increases to half on flights over 12 hours.
Emirates' unbeaten 12-year run as winner of the World's Best Inflight Entertainment award, is thanks to its industry-leading ice entertainment system, which currently boasts an incredible 2,689 different channels for passengers to choose from – including over 90 dedicated children's channels. Ranging from the latest blockbuster movies, award-winning television box sets, comedy series, live TV, music and computer games, ice is constantly expanding to offer even greater choice. Since winning the Skytrax award a year ago, ice has seen:
·         35% more TV channels introduced
·         20% more TV Box Sets introduced
·         35% more audio channels introduced
An enhanced selection of content for hearing and visually impaired customers with Audio Description and Closed Captions
Content offered in 37 languages
The airline has also expanded Live TV across its fleet including Live TV Sports Channels featuring high-profile sporting events, including this year's Rio Olympics.