Stock Spirits Group PLC Results for the year ended 31 December 2015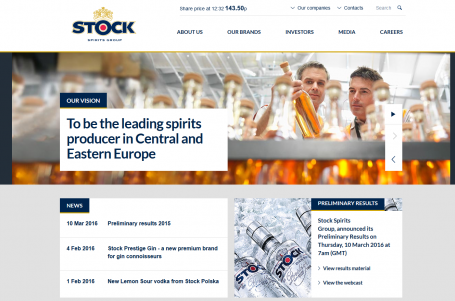 Stock Spirits Group PLC, a leading Central and Eastern European branded spirits producer, announces its results for the year ended 31 December 2015
FINANCIAL HIGHLIGHTS
Total revenue €262.6 million (2014: €292.7 million)
Operating profit decreased 22.3% to €41.7 million (2014: €53.6 million)
Profit after tax €19.4 million (2014: €35.8 million)
Closing net debt of €57.2 million (2014: €82.4 million)
Proposed final dividend of €0.0455 per share giving total 2015 dividend of €0.058 per share, a 55% increase on 2014
Adjusted EBITDA* €53.7 million (2014: €66.4 million)
Adjusted free cash flow* of €46.9 million, 87.2% of Adjusted EBITDA*
OPERATIONAL HIGHLIGHTS
Total sales volume of 11.8 million 9 litre cases (2014: 14.4 million)
43 new product launches including Stock Prestige sparkling, new flavours of Fernet and Bozkov and a new premium vodka "Amundsen Expedition"
Poland
Market value share decline from 38.1% to 30.9%
A return to profit growth in H2 (versus H2 2014) following a poor H1, full year EBITDA of €37.7m is €15.4m lower than 2014
Remain the leader in the important flavoured vodka category, No. 2 position in total vodka (including flavoured vodka)
A further year of value and volume growth for Jim Beam
Czech Republic
Market value share increase of 2.1% to 35%
Top line growth in sales revenue and EBITDA growth of over 13%
Another year of strong growth of Fernet brand following launch of new flavours and further brand building investment
Growth in value and volume share of Diageo Captain Morgan and Johnnie Walker brands
Italy & Other markets
Excise duty (January 1st 2015) increase passed through to consumers in Italy
Strong EBITDA growth in our Other markets
Strong performance on the Beam Suntory brands in Croatia and Bosnia
Chris Heath, CEO of Stock Spirits Group, commented:
"2015 saw another year of disruption in the Polish market and I am personally very disappointed that we had to issue revised profit guidance in November 2015. Our team in Poland have worked incredibly hard to put in place the necessary building blocks to return the business to growth and I acknowledge their hard work and commitment during this difficult period. In other markets, I am very pleased with the results we achieved in 2015 and it reassures me that our commercial strategy remains valid and robust. In all of our markets we achieved profit growth in the second half compared to the same period in 2014.
We have recently completed a thorough strategic review of the Group and a detailed 'root and branch' review of our operations in Poland. Whilst both reviews have reaffirmed the principal elements of our strategic goals, they have also identified a number of areas where we need to adapt our strategy and actions, to reflect changes in the Polish competitive environment and the ongoing difficulties in making meaningful acquisitions in CEE to broaden our geographic footprint.
Our cashflow remains strong and leverage at the year-end is a little over 1x, providing the Group with a very robust balance sheet going forwards. The Board is very pleased to propose a final dividend of €0.0455 per share, with the full year dividend represents an increase of over 55% versus 2014.  In addition, if we are not able to announce a meaningful acquisition in the near term, the board will consider the best way to return further capital to shareholders.
The Board are focussed on the delivery of our strategic and operational goals, in order to return the business to sustainable growth."
* Stock Spirits Group uses alternative performance measures as key financial indicators to assess the underlying performance of the Group.  Details of the basis of calculation for Adjusted EBITDA, Adjusted EBITDA margin and adjusted free cash flow can be found in Note 5.
 Management will be hosting a presentation for analysts at 8am on Thursday 10 March at:
Nomura
1 Angel Lane
London
EC4R 3AB
 There will be a simultaneous web cast of the presentation via www.stockspirits.com with a recording made available shortly thereafter.
A copy of this press release has been posted on www.stockspirits.com.
 This press release contains statements which are not based on current or historical fact and which are forward looking in nature. These forward looking statements reflect knowledge and information available at the date of preparation of this press release and the Company undertakes no obligation to update these forward looking statements. Such forward looking statements are subject to known and unknown risks and uncertainties facing the Group including, without limitation, those risks described in this press release, and other unknown future events and circumstances which can cause results and developments to differ materially from those anticipated. Nothing in this press release should be construed as a profit forecast.
 Notes to editors:
 About Stock Spirits
Stock Spirits, one of Central and Eastern Europe's leading branded spirits and liqueurs businesses, offers a modern premium branded spirits portfolio, rooted in local and regional heritage. With core operations in Poland, the Czech Republic, Slovakia, Italy, Croatia and Bosnia & Herzegovina, Stock also exports to more than 40 other countries worldwide. Global sales volumes currently total over 100 million litres per year.
Stock holds strong market positions in spirits in both Poland and the Czech Republic, where it has invested in what is believed to be state of the art production facilities, and is one of the world's leading vodka producers. Core Stock brands include products made to long-established recipes such as Stock brandy, Fernet Stock bitters and Limonce, as well as more recent creations like Stock Prestige and Zoladkowa de Luxe vodkas.
Stock was created through the integration of Eckes & Stock and Polmos Lublin in 2008 and floated on the main market of the London Stock Exchange in October 2013.
Stock supports and is active in the promotion of responsible and moderate drinking. For further information please visit: www.stockspirits.com