Infinite Possibilities with Emirates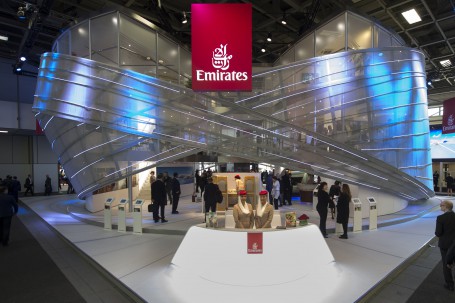 Two World Debuts for the Airline at ITB Berlin 2016
DUBAI, U.A.E., 9 March 2016: Emirates returns to world's leading travel trade show today with not just one, but two world premières: its spectacular new show-stopping stand plus a new Boeing 777 Business Class seat.
The futuristic triple-deck Emirates Infinite Possibilities Stand is being showcased at ITB in Hall 22a, its unique design reflecting the endless possibilities travellers have with Emirates and providing visitors with an opportunity to see some of Emirates' iconic onboard features.
"With more than 10,000 exhibitors from 180 countries, the world literally meets at ITB Berlin,'' said Sir Tim Clark, President, Emirates Airline – "for Emirates as a global connector of people and places, this trade fair is the ideal platform to demonstrate our product and services – with our new Infinite Possibilities Stand we virtually inspire travels around the world. Our teams hosting on our stand can also share ideas with new and existing trade partners, customers and industry stakeholders.''
As well as the new stand itself, visitors can experience another Emirates first: a new Business Class seat which will be installed in all Emirates' new Boeing 777-300ER aircraft delivered from November 2016 onwards. The newly enhanced seat has been designed with total customer comfort in mind: an ergonomically designed headrest, a pitch of 72 inches and the latest touchscreen controller allowing the seat to be electrically converted into a fully flat sleeping position at 180 degrees. The improved layout also comprises one of the industry's largest personal TV screens at 23 inches allowing customers to enjoy Emirates' award-winning ice inflight entertainment and additional amenities like a conveniently located mini-bar.
One of the tallest exhibitor stands at this year's ITB Berlin, the Inifinite Possibilities Stand will also display Emirates' signature First Class Private Suite, generous Economy Class seats and the two of the onboard products found on the flagship Emirates A380 – the First Class Shower Spa unit, equipped with a working shower and the iconic Emirates A380 Onboard Lounge. The perfect meeting place for First Class and Business Class passengers in the skies also welcomes ITB visitors and invites them to take selfies and share their visit on social media.
Throughout the last two decades, Emirates has continuously reinforced its commitment to the ITB Berlin trade fair, as well as the German market. Emirates offers ten daily connections from four gateway cities to Dubai, three of which are serviced by an Emirates A380 – Munich, Frankfurt and Dusseldorf. Emirates also offers ideal flight connections for travellers around the world to the Maldives, this year's Official Partner Country of ITB Berlin, via its Dubai hub.
Facts and figures on the new Emirates stand:
The triple-deck stand is 8.5 metres high and took nine days to assemble.
The footprint of the stand is 22×24 metres, equalling 528 square metres. That equals approximately the footprint of the A380 cabin (550 square metres).
The stand consists of 11,481 individual pieces and components. Some 30,000 nuts, bolts and screws hold the stand together and it has over 100 kilometres of electrical cabling.
The total weight of the stand is 166 tonnes, equalling approximately the weight of a blue whale. The weight of an A380 is three times higher (560 tonnes).
The aluminium mesh of the outer skin incorporates over 1.2 kilometres of strip-LED lighting.
After the event the stand will be dismantled into 26 40 foot shipping containers and in anticipated to travel 28,000 kilometres each year, representing Emirates at a number of high profile events worldwide.
State-of-the-art technology including a bespoke interactive meeting system and floor to ceiling curved LED panelling.
The A380 Shower Spa unit will feature a working shower and underfloor heating.
On the private first and second floors the stand features seven meeting rooms, one Majlis, two executive offices, two serveries and two fully-functioning kitchens.
The stand can accommodate 350 visitors at one time. This almost equals the number of passengers that can fly in the Economy Class of the A380 (399 passengers).