High Public Interest Pushes Deadline for "Missing Statue" Design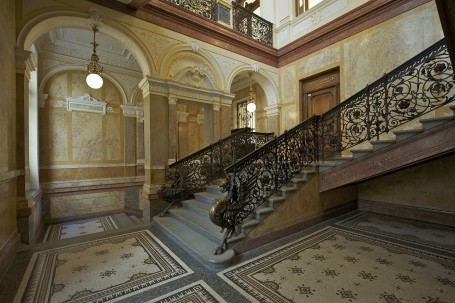 Prague, 10 March, 2016 – Flow East, the Anglo-Czech property developer and heritage campaigner, today announced that it has extend the deadline for submissions to the design competition for the missing statue on the "Císařské schodiště" (imperial staircase) of The Forum building at Wenceslas Square 19. Designs will now be accepted through 30 April due to high public interest.
The winning designer will be awarded CZK 100,000 in addition to the complete coverage of all costs connected to the construction of the statue. Interested artists can come to see the space anytime during official opening hours 9:00am to 5:00pm and arrange a visiting at The Forum reception desk. Submissions should be sent to soutezVN@floweast.com by 30 April 2016. The winner will be chosen by a panel of Flow East members in June 2016.
About The Forum and Flow East
Since acquiring the Neo-Baroque structure in 2002, Flow East has found no archival evidence of the lost or destroyed statue that once sat atop the empty pedestal adorning the Baroque stucco imperial staircase, the building's dominant interior feature.
Dating back to 1896 and renovated by Flow East in 2005, The Forum is one of the largest historical buildings on Prague's Wenceslas Square and is listed as a cultural landmark, owing in part to its original occupant, Assicurazioni Generali insurance company, where Franz Kafka was briefly employed. The Forum comprises of six floors and offers Class A office and retail space in the very heart of Prague.
Flow East focuses primarily on investments into and the restoration of historical buildings in exclusive locations across Europe, especially in Prague's city centre. From Medieval, to Renaissance, to Neo-Baroque, Flow East stringently maintains a stylistically diverse portfolio of exceptional properties, many of which are listed as cultural real estate landmarks and heritage sites.