PUMA INTRODUCES evoSPEED 1.3 WITH DRAGON GRAPHIC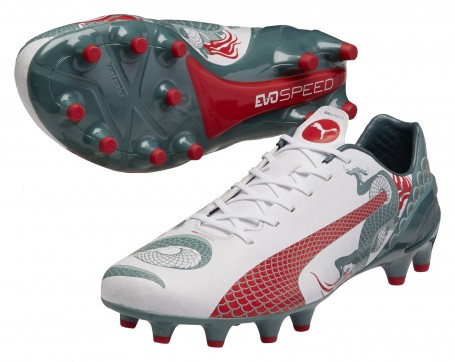 Herzogenaurach, Germany – PUMA today released its latest graphic concept football boot, the evoSPEED 1.3 Graphic. Created with dazzling attention to detail, this new boot takes its inspiration from the Japanese dragon, a traditional symbol for speed, power, wisdom and agility. The white, high risk red and sea pine boot will be worn by all PUMA evoSPEED players including Sergio Agüero, Marco Reus, Radamel Falcao, Antoine Griezmann, Marco Verratti, Santi Cazorla and many more.
Being a true attention grabber, this new boot features a bold dragon graphic, wrapped around the upper, with its head on the medial side and tail on the lateral side. The boot is emblazoned with a dragon skin textured upper material, applied to the whole boot. The sea pine coloured heel counter and the scaled risk red form stripe, both complete the dragon look.
As with every PUMA Speed football boot, the evoSPEED 1.3 Graphic has been designed with speed and agility in mind. A flexible material composition improves the players' manoeuvrability to react faster. The evoSPEED 1.3 Graphic ensures optimum ball contact and control thanks to PUMA's GripTex technology on the boot upper, which enhances ball control in all weather conditions. The external midfoot cage which is wrapped around the outside of the boot enhances stability, and a new optimised footbed gives a snug fit to increase comfort.
Manchester City star striker Sergio Agüero said: "I love the new dragon boot that PUMA made for us. I hope that this Japanese dragon also stands for luck and success, because I need them to perform well with me during these important matches at the end of the season and also for the Copa America in Chile when I play with Argentina. The boots are really comfortable, just like my previous evoSPEED 1.3 boots, so I feel really confident in them."
Borussia Dortmund Midfielder Marco Reus said: "White boots are always my favourites, because they simply look slick and classy and PUMA have done a great job with adding these additional graphics. I am especially a fan of this new upper material with the skin look and feel, and the green of the dragon graphics somehow reminds me of my tattoos, so I like it a lot. I am excited to wear these boots in the next round of the DFB Pokal, fingers crossed they will help me score against Bayern München."
The new white, high risk read and sea pine evoSPEED 1.3 Dragon is available in-store and on puma.com from 1 May 2015. A full collection of training apparel, goalkeeper gloves and other accessories will also be available.