Portland Trust's Floreasca Park Receives FT CEEQA Green Leadership Award 2015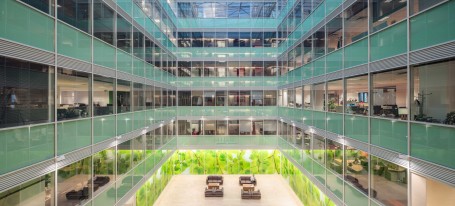 BUCHAREST, 22nd April, 2015 — CEEQA today proudly announced that Prague based Portland Trust has won the Financial Times & CEEQA Green Leadership Award 2015. The real estate industry's most prestigious, the CEEQA Awards, recognize outstanding business performance, innovation and achievement in Central and Southeastern Europe.
The Green Leadership Award was awarded to Portland due to its successful development of the Floreasca Park office complex located just North of Bucharest City center. The 40,000 m2 high specification and high efficiency office complex has numerous innovative features which focuses on low energy consumption.
Floreasca Park has claimed its second CEEQA award this year and third overall. In March of 2015, the building received the CEEQA award for Real Green Building of the Year 2015, and in 2014 the building picked up CEEQA's Office Development of the Year 2014. The Green Leadership Award recognizes Portland Trust's position as an innovator in the area of green building design and technology. The building's environmental systems which set it aside from other standard office buildings include a geothermal ground sourced heat pump system, BMS controlled night-cooling and passive stack heat recuperation in the atria. The building boasts a BREEAM rating of Excellent with 81.5 points.
"Having become the recipient of this highly coveted award this year Portland is extremely proud to have been acknowledged as a developer who genuinely and practically demonstrates its commitment to sustainable and ecologically minded projects," said Robert Neale, managing director of Portland Trust. "This is a great piece of engineering which is relatively easy to install and very effective and we are sincerely grateful for the continued recognition of the groundbreaking achievements at Floreasca Park."