PUMA DEBUTS THE ALL NEW "LQD CELL" TRAINING TECHNOLOGY FOR ENHANCED CUSHIONING AND STABILITY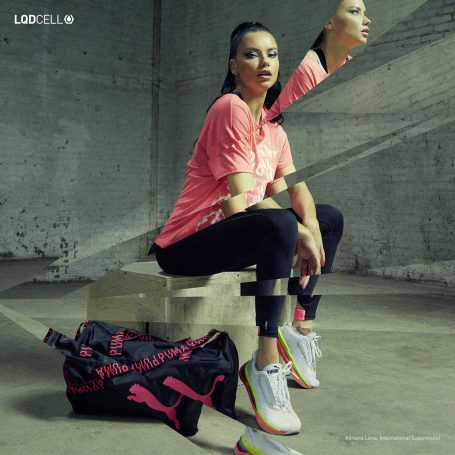 Global Sports company PUMA is bringing their 90's hexagonal cushioning back, but has done serious updates to it for today's athletes. The result: a brand new technology called LQD CELL. PUMA's LQD CELL is a shock-absorbing compound that's coupled with PUMA's foam products in strategic locations on the foot to improve stability, softness, and absorption – overall, offering stable cushioning.
What once was a cushioning system formed by large hexagonal cells is now a lightweight, cushioning system which provides increased stability and improved shock absorption. This new technology elevates the original street style shoe into a high performance, enhanced sport sneaker for all athletes.
LQD CELL is an extremely versatile technology. Depending on the product's needs, it is mixed with PUMA's proprietary energy-returning foams in different regions of the foot, allowing LQD CELL to work in different ways, and offering various benefits to the athlete. How does it work? The soft yet sturdy hexagonal cells compress and work together with PUMA's foams to keep you steady while working out. Consumers will experience heightened stability and a comfort needed from start to finish for any kick ass workout.
The LQD CELL technology will be available in a large offering of silhouettes inspired and worn by a diverse range of performance athletes. Specifically, LQD CELL Shatter, PUMA's Women's Performance Training Shoe, is a provocative silhouette that will shatter all boundaries and expectations of what is expected from a women's training shoe. Designed for the bold female athlete, this provocative silhouette brings the heat with its unique midsole shape while offering immediate cushioning and energy return in a lightweight package, while the internal heel counter provides additional heel support for training movements.