Prologis Completes Build-to-Suit Distribution Hub for German Automotive Company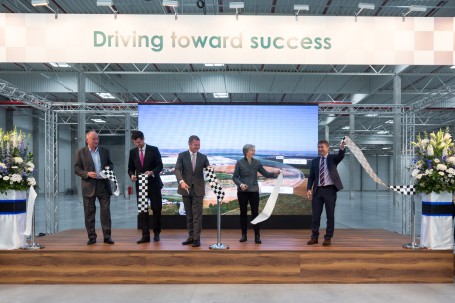 New customer occupies 25,414 square metres at Prologis Park Bratislava

BRATISLAVA (28 April 2016) — Prologis, Inc., the global leader in logistics real estate, today celebrated the grand opening of a 25,414 square metre build-to-suit facility for BMW Group at Prologis Park Bratislava with an official ribbon-cutting ceremony.
The festive 'crossing the finish line' themed event was attended by Mr. Wolfgang Baumann, vice president of Parts Logistics Management at BMW, alongside Ben Bannatyne, president of Prologis Europe, and Martin Polák, Prologis senior vice president and regional head for Central and Eastern Europe. The Senec mayor and more than 80  distingushed guests, city officials, media and employees also attended the ceremony.
Tailored to suit the customer's specific requirements, the state-of-the-art distribution facility, DC9, features LED lighting, temperature control, perimeter lighting, surveillance, IT solutions and a dangerous goods room (ADR) and will serve as a spare parts distribution hub for all of Central Europe.
"We continue to receive demand from automotive companies throughout the CEE region, which often require tailored facilities to suit their business operations," said Martin Polák, senior vice president and regional head, Prologis Central and Eastern Europe. "This new facility is a first-rate example of Prologis' ability to provide customised space in ideal locations, and we are delighted to have taken part in such a prestigious project."
Prologis Park Bratislava is a state-of-the-art industrial park located 24 kilometres east of Bratislava's city centre, two kilometres from Senec and 16 kilometres from the international airport. It currently comprises 13 facilities totalling more than 320,000 square metres of production and distribution space.
Prologis is the leading provider of distribution facilities in Slovakia, with more than 520,000 square metres of logistics and industrial space (as of March 31, 2016).