Miles of smiles and surprises cap Emirates Skywards celebrations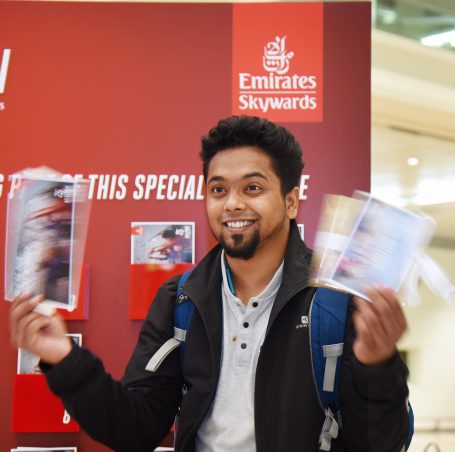 For over two weeks, hundreds of Emirates customers were wowed with fabulous surprises and novel prizes at Emirates Terminal 3. Sharing the joy and creating a buzz among travellers was part of Emirates Skywards' celebrations on achieving a key milestone: 25 million members.
From 22 September to 7 October, Emirates Skywards gave away around 400 prizes, including 455,000 Miles, 16 gold and silver tier memberships, 16 Emirates Lounge access passes for two, 56 chauffeur drives, 53 partner offers, 160 branded notebooks, and several premier events passes for two and Home-Check in vouchers. Fifty-seven travellers won Skywards Miles, in chunks of 25,000, 5,000 or 2,500, which were credited straight into their account.
In week one, every day 25 lucky passengers arriving in Dubai from across the Emirates network found big red stickers on their baggage. That meant they could pick one sealed prize from a massive stand chockful of rewards. The golden ticket winner, who could choose any prize, grabbed 25,000 Skywards Miles.
In week two, the action moved from the baggage hall to the Business Class check-in area, where 1,000 passengers collected personalised 25-million themed luggage tags printed for them on the spot. At the Skywards Desk, every freshly enrolled member, and there were nearly 200, won a range of prizes in an instant lucky dip.
Dr Nejib Ben Khedher, Divisional Senior Vice President Emirates Skywards, said: "It was a thrilling two weeks at Emirates Terminal 3, and it was heart-warming to the see the awed reactions of many winners as the value of the prizes they held in their hands dawned on them. We wanted to celebrate the key milestone with our customers, as the collaboration with our members' community is at the heart of our programme's success. We will be rolling out two exciting new initiatives soon, which are sure to be significant milestones for us and our members."
The celebrations were enjoyed by 22,200 more members through offers and member discounts – 8,500 members took advantage of a special Cash+Miles rate on Emirates and flydubai flights, 6,300 went for upgrades, 2,400 booked reward tickets, while 5,000 members bought and gifted Miles.