Kingspan technology breakthrough achieves industry-leading insulated panel performance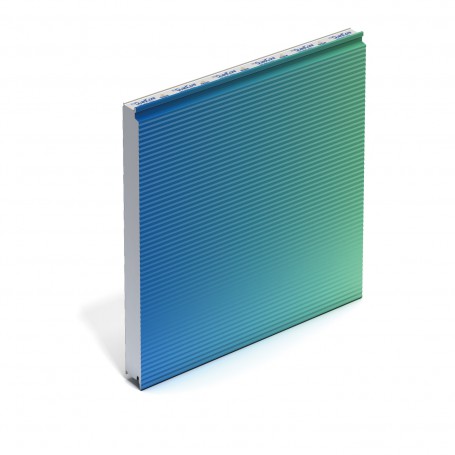 Market leader's "most significant insulation technology breakthrough in a decade".
New insulation core offers best-in-class thermal and fire performance, environmental credentials, and product guarantee.
IPN QuadCore helps reduce annual energy demand by 14% compared with a typical Part L-compliant building, and adds up to six BREEAM points.
16th July 2015, Kingspan Insulated Panels today launches IPN QuadCore, a new insulation core that delivers the best thermal, fire and green performance of any closed-cell material. Engineered with a unique microcell structure, IPN QuadCore promises to reduce operating costs and enhance environmental credentials, helping to future-proof buildings against any regulatory or market changes.
"This is the most significant insulation technology breakthrough in a decade," said Ivan Springer, Country Manager, Kingspan Insulated Panels. "By offering unprecedented performance that makes the strongest business case yet for sustainability, QuadCore brings us one step closer to realising our vision of a global Net-Zero Energy built environment."
IPN QuadCore delivers a 20% thermal improvement over comparable insulation materials. It has a lambda value of just 0.018w/mK, the best in the industry, and achieves U-values as low as 0.16 W/m2K. A study by energy consultants AECOM found that, when compared with the notional distribution warehouse in Part L2A 2013, IPN QuadCore can reduce annual energy demand by almost 14%.
IPN QuadCore is the first closed cell insulation material to be certified to FM 4882 for use in smoke sensitive occupancies. It achieves a reaction to fire of B-s1,d0 to EN 13501-1, the lowest smoke emissions possible, and offers fire resistance of up to one hour insulation and four hours integrity to EN 13501-2.
IPN QuadCore also helps buildings to achieve the highest possible ratings in building assessment methodologies such as BREEAM and LEED, with an IPN QuadCore building achieving six more BREEAM Ene01 credits than a typical retail or distribution warehouse. This helps future-proof IPN-QuadCore buildings against stricter compliance that may otherwise lead to costly retrofit obligations. Furthermore, the process that delivers IPN QuadCore's new microcell structure optimises the insulation to reduce the environmental cost of its production.
Each IPN QuadCore panel is backed by an industry-first 40 year guarantee which covers both structural and thermal performance. This ensures that a building will perform 'as-built' over the life of the property, reducing costly envelope maintenance and repair costs as time passes.
IPN QuadCore has a distinctive grey colour, unlike the bright yellow of Kingspan's standard PIR core. The new core is being offered to customers in the cold store sector and users of Kingspan's BENCHMARK engineered façade systems in the first instance, with a wider rollout expected later this year.