IMPACT Day Unites Prologis CEE Employees for Community Service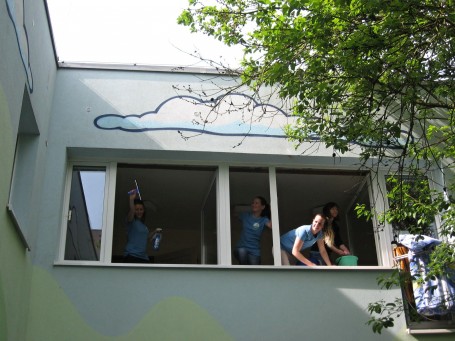 WARSAW (May 18, 2015) – Prologis, Inc., the global leader in industrial real estate, today announced that its employees from Central and Eastern Europe spent Friday, May 15, participating in IMPACT Day, the company's third global annual day of community service.
Prologis employees from Poland, the Czech Republic, Slovakia, Hungary and Romania were involved in many projects undertaken by local charitable and non-profit organisations. The activities ranged from gardening to refurbishing a playground and renovating houses.
Poland responds to SOS signal
The Polish employees helped the SOS Children's Village in Siedlce, which currently accommodates 71 children. The SOS Children's Village Association provides orphaned and abandoned children with the best foster care possible. As part of their work, the employees renovated two single-family houses, repaired and painted fences and the playground, and planted trees.
Czech Republic and Slovakia help the Kangaroo
Teams from the Czech Republic and Slovakia cleaned the garden and tidied and renovated the premises at the Kangaroo Center Laskova. The Kangaroo is a project of the Fund for Children, whose aim is to provide family care for minors instead of institutional foster care (orphanages) until they can return to their parents or find permanent foster families. Additionally, Prologis sponsored the purchase of a washing machine and vacuum cleaner, which will make it easier to maintain the centre.
Hungary and Romania for health
Employees from Hungary and Romania united to help the Rehabilitation and Mental Health Centre for Children and Adolescents in Budapest. Under the supervision of experts, they rebuilt stone fencing, painted and decorated the playground and renovated benches and tables around the facility.
Some 1,500 Prologis employees around the world, including 69 colleagues from the CEE region, volunteered in this year's IMPACT Day. IMPACT Day emphasises the company's core values of Integrity, Mentorship, Passion, Accountability, Courage and Teamwork.
"Community involvement and corporate citizenship are central to the Prologis spirit and culture. The reward for helping those in need is the satisfaction our employees get from being able to provide this kind of valuable support," said Ben Bannatyne, managing director, Prologis Central and Eastern Europe. "IMPACT Day has a lasting and positive influence on teamwork at Prologis and connects employees with the company's social mission."
Prologis' commitment to social responsibility extends beyond IMPACT Day. The company gives employees 24 additional hours of paid time off each year to volunteer at nonprofit organisations: 16 hours for company-sponsored charitable events and 8 hours for the nonprofit organisation of the employee's choice.