Kvetinovy dum will give a retail, social and cultural boost to the top end of Vaclavske namesti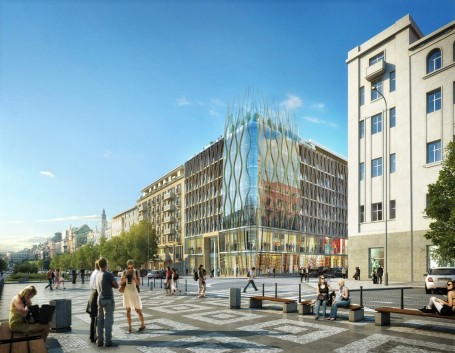 Prague, 12th May 2015 – Jan Kotrbacek, Partner and Head of Retail Services in Czech Republic and Slovakia at Cushman & Wakefield and one of the country's leading experts on the retail industry, has forecast a massive uplift in the environmental quality of Vaclavske namesti's upper end once the new Kvetinovy dum opens its doors for business.
'It's a great shame and a cause for concern that half of Prague's most famous public space has so much unused potential, and is frequented by street-vendors and pick-pockets rather than people enjoying Prague while shopping or dining out,' he said. 'On the other hand the lower half of the square has experienced some positive development.
As recently announced by Jan Wolf, revitalization is planned to begin with the lower half of the square in line with the 2005 master-plan of Cigler Marani. Somehow the upper end of the square has been missed out. Kvetinovy dum will be the first step in putting this right: Flow East's designs include first-class retail space for a department store or a major fashion brand, as well as office accommodation on the upper floors.
Cushman & Wakefield's Kotrbacek points out 'The last 25 years have seen seismic changes in Central Europe's retail infrastructure – changes which countries in Western Europe have had 60 years to absorb. The consequences have been inconsistent, as we see from Vaclavske namesti's dual character – but we can also observe how transformative sensitive retail development can be: Zlaty Andel, Novy Smichov, namesti Republiky, the Palladium Centre, Narodni trida – there are countless instances of urban revival in Prague led by the provision of retail environments where shoppers want to go and where retailers want to be.'
Flow East experiences high demand from high quality retail brands for its retail units in Kvetinovy dum. Even though Kvetinovy dum, located at Wenceslas Square 47, has not yet received all necessary building permissions, this unique opportunity to kick-start the social, commercial and civic life of the upper part of Wenceslas Square is tempting large number of retailers.
Vaclavske namesti's evolving cultural heritage
James Woolf, CEO of Flow East, is passionate about Vaclavske namesti, where the company owns the refurbished hotel Jalta and the Forum. Prague is a city of his grandparents, where he founded Flow East25 years ago.
'It's incredible that Prague has inadvertently let the top end of the square go almost unused as a major boulevard that people can be proud of. There is no parallel in any other major European city. If you look back in the historical records you will see that Vaclavske namesti has been cherished ever since its medieval origins as an agricultural market and the central focus for Prague's commercial and cultural life. The evidence can be seen in its constantly changing architecture which is the defining feature of Vaclavske namesti. This is the square of Prague where new architecture and change are the historical themes that should be maintained and respected.
Kvetinovy dum is our contribution to continuing that centuries-old heritage of evolution and change. The building will be a dazzling architectural tour-de-force which will boost civic pride and hopefully begin a turn-around. We want the whole of Vaclavske namesti to be clean, safe, high-quality and a symbol of Prague's success.'