evoSPEED SL-S OFFERS NEW SYNTHETIC UPPER TO SUPER LIGHTWEIGHT BOOT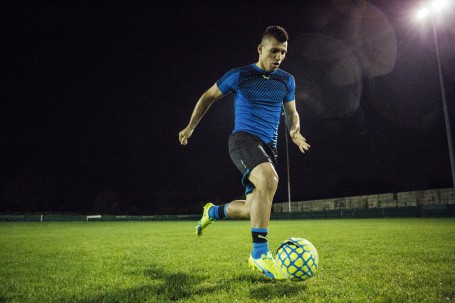 New Member of the PUMA evoSPEED SL Family Launched with Extra Durable Upper
Herzogenaurach, Germany (26 December 2015) – PUMA today launched the evoSPEED SL-S, the new super lightweight football boot with a synthetic upper that offers extra durability for everyday use. The evoSPEED SL was introduced by PUMA last summer for match days and special moments, whilst the new evoSPEED SL-S is for players that require the 'lighter than light' feeling also in every training session. PUMA players Sergio Agüero, Marco Reus, Antoine Griezmann and Marco Verratti will wear the new evoSPEED SL-S in the vibrant safety yellow and atomic blue colourway from today.
The super lightweight boot construction of the evoSPEED SL is now combined with a new monolayer microfiber upper material, which results in extra speed and durability for the everyday player. This new soft and durable synthetic upper material further provides comfort, stability and a better feeling of the ball. The flexible yet stable SPEEDTRACK spine in the outsole enables the player to perform quick turns, which is supported by the mixed stud configuration that improves players' ability to react.
Sergio Agüero said, "These new boots are simply incredible. Players have different needs from their football boots, I like to wear the same boots in training that I wear in matches, which is just my personal preference. This new evoSPEED SL-S allows me to do that, which I am very happy about. To me, a light boot is very important, as it helps me to pick up maximum speed within few seconds or change direction easily, which is key to my style of play."
PUMA today also launched the new colourway of the evoSPEED SL, which continues to be a key high performance product in the global sports brand's football footwear offering. Both the new evoSPEED SL and the SL-S are available for purchase on puma.com and at global football boot retailers from Saturday, January 2.
PUMA today also revealed the new Vent Thermo-R Jacket, which includes specific vent placements that adapt to movement patterns providing improved temperature control in colder, windier and wetter conditions.
A variety of product shots and images of PUMA's star football players in the new boot and the Vent Thermo-R Jacket are now available to download from PUMA's media center: news.puma.com