MasterCard is new Premium Sponsor and Official Payment Provider of the Hahnenkamm Races in Kitzbühel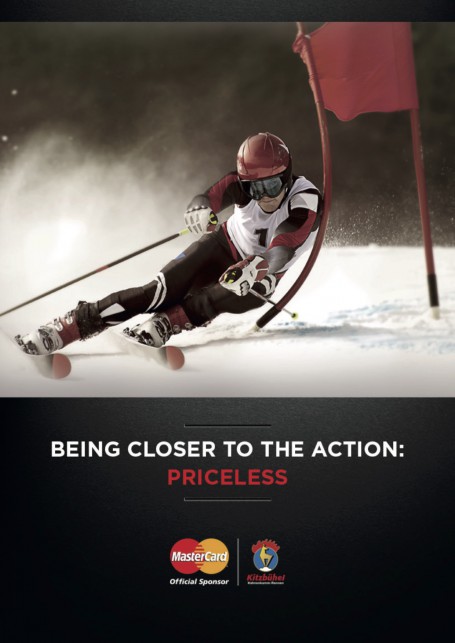 MasterCard announced that it is the new Premium Sponsor and official payment provider of the Hahnenkamm Races in Kitzbühel. The Hahnenkamm Races are renowned as the annual highlight on the international winter sports calendar and are taking place between 19th and 24th January 2016.
 The spectacular races on the legendary Streif and Ganslernhang lure almost one hundred thousand spectators and over 300 Mio. TV contacts* in Europe every year. For Europeans, skiing is by far the most popular winter sport and Kitzbühel is known as one the best ski resort in Europe.
 "The connection with major sporting events is an important way for MasterCard to offer consumers and fans from around the world Priceless Experiences which are closely linked to their own passions. We are delighted to help making this event unforgettable and to offer easy and simplified access to the most legendary sports city in the Austrian alps", says Cristina Saccà, Head of Marketing Central Eastern Europe at MasterCard.
 Therefore MasterCard's presence will set a clear focus on the fans and ski-sport enthusiasts: Fans who pay cashless on-site will have the opportunity to be chosen to watch the race from the MasterCard Lounge located directly next to the Streif finish jump. In addition, they will experience numerous priceless surprises and special benefits on-site including the MasterCard fastlane for privileged access to the most spectacular of all ski events.
"We are proud that with MasterCard we have won a global top brand as new partner of the Hahnenkamm Races. This clearly shows the high level status of the event", says Philipp Radel, CEO of Weirather-Wenzel & Partner, the marketing partner of the Kitzbühler Ski Club (K.S.C.).
Cashless Payments – new Service at Kitzbühel 
As the official payment provider on-site, MasterCard will offer many options for convenient cashless and even contactless payments. From ticket purchase at all entrance points and online, to selected stands at the finish area, right through to catering stands in the Kitzbühel city centre, visitors will have the possibility to pay cashless with their MasterCard or Maestro card: a unique service within the winter sports-events scope, where not only speed at the races, but also at the waiting lines counts.
"Thanks to MasterCard, fans will for the first time have the opportunity to pay cashless at all key touchpoints of the event. Once again, the Hahnenkamm Races are setting new high level standards in service quality", comments Dr. Michael Huber, President of the Kitzbühler Ski Club (K.S.C.).
 MasterCard has been sponsor and partner of international top sporting events like the UEFA Champions League and the French Open in Paris and will now also be present in winter sports.