Emirates A380 continues to capture the imagination of travellers after 10 years of operations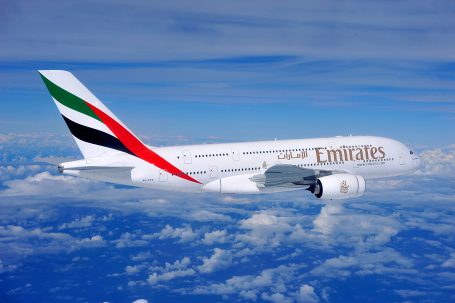 Over 105 million passengers have experienced the Emirates A380 since 2008
Over 1.5 billion kilometres travelled, equivalent of 39,000 trips around the globe
Aircraft is a customer favourite, playing a significant role in Emirates' growth and network expansion
 Emirates is celebrating 10 years of A380 operations. Since its first flight to New York from Dubai on 1 August 2008, the Emirates A380 has carried more than 105 million passengers, clocking in more than 1.5 billion kilometres on 115,000 flights, equivalent to 39,000 trips around the globe.
Watch the Emirates A380 10 year journey here
Emirates is the world' largest operator of the A380 aircraft, with 104 double-decker aircraft flying to 49 cities on 6 continents on scheduled services with more than 80 daily departures from Dubai, the airline's hub. In addition to its 104-strong fleet, the airline has a further 58 A380s on order. Today, Emirates also operates the world's shortest A380 route from Dubai to Kuwait and the world's longest A380 non-stop route from Dubai to Auckland. The airline has also grown its scheduled services to major airports and has also successfully grown demand at regional airports such as Manchester, Brisbane, Kuala Lumpur, Houston, Prague, Kuwait, Mauritius, Johannesburg and Sao Paulo.
Sir Tim Clark, President Emirates Airline said: "It's been 10 extraordinary years since the first Emirates A380 flight took to the skies, and today it has become one of the most recognisable and admired aircraft in the world. Passengers love to fly it because of its spaciousness which provides more comfort across all classes, and its iconic products like the OnBoard Lounge, Shower Spa and First Class suites have redefined air travel.  We remain committed to providing the best experience for our customers aboard our flagship aircraft, and introducing new innovations that will continue to 'wow' them every time they fly with us.
The Emirates A380 has also had a significant impact on the aerospace industry and its high-value supply chains, fuelling hundreds of thousands of jobs for skilled workers, and creating significant economic benefits in countries which have A380 production facilities. The aircraft continues to boost tourism and trade wherever it flies by stimulating further traffic and demand, and we hope that it continues to play an important role in the economies and societies that it serves in the years to come."