Colliers International Consolidates Its Operations In Czech Republic With THREESIXTY And Names Tewfik Sabongui As Managing Partner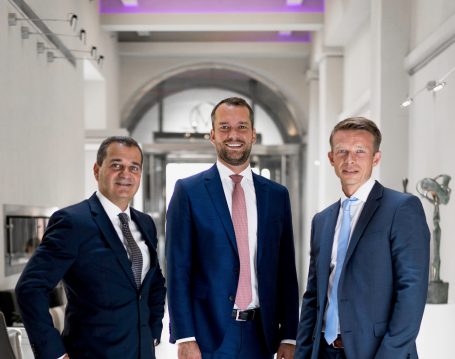 THREESIXTY Partners Add An Extensive Pipeline Of Deals, Relationships And Successful Track Record
 Colliers International announced today it has agreed to consolidate its business in the Czech Republic with the THREESIXTY Agency, bringing to Colliers their extensive pipeline of deals, relationships and successful track record.  The THREESIXTY partners Tewfik Sabongui and Petr Žalský will become equity partners of Colliers International, Czech Republic, with Tewfik Sabongui taking on the role of Managing Partner and Petr Žalský in the role of Director of Office Agency.  All other THREESIXTY employees have also joined Colliers, effective immediately.
"Joining forces with the team from THREESIXTY is a major win-win for both Colliers and our clients. Our new equity partners and team members are some of the most well-respected professionals in the market and will immediately bolster our already strong platform," says Luke Dawson, Managing Director & Head of Capital Markets CEE, Colliers International. "This is the first stage of our longer-term growth plan for the Czech market and I am truly excited to work with Tewfik, Petr and our entire team to continue to build our business together."
THREESIXTY, established in 2017, offers a wide range of transactional, consultancy and advisory services in the Czech Republic and Central & Eastern Europe to local and international clients, developers and investors. It has quickly built a reputation as a trusted and passionate advisor across all sectors.  Prior to founding THREESIXTY, Sabongui was Managing Director of JLL Czech Republic for 10 years and Managing Director of Tetris Design & Build Czech when it was established in Czech as part of JLL. Žalský was previously Head of Leasing for CA Immo in the Czech Republic and before that held various senior positions with JLL in the Czech Republic.
"Setting up THREESIXTY was a major milestone in our professional careers in realising our vision of how to best serve our clients in the most entrepreneurial way," added Tewfik Sabongui, Managing Partner of Colliers International, Czech Republic.  "We chose to partner with Colliers because of its dynamic growth and enterprising culture as well as our partnership model.  By integrating into the Colliers global platform and leveraging its strength and breadth, this gives us the best of both worlds and we look forward to taking our business to the next level."
Colliers is one of market leaders in real estate services across Czech Republic, with more than 30 professionals, providing a range of services including; industrial and office agency, investment, valuations, building consultancy, asset & property management and workplace solutions services to clients across Czech from offices in Prague.
"The Czech Republic has established itself as one of the most sought-after investment destinations in the CEE and provides us with a huge opportunity to expand our businesses across the region to meet the needs of our current and future clients," said Chris McLernon, CEO Colliers Internationals, EMEA. "Tewfik and Petr enjoy a strong reputation and a deep understanding of the local market; their leadership, combined with our existing talented team, will enable Colliers to better serve our clients locally and internationally."