Prologis Starts Construction on 38,620 Square Meter Facility in Fully Occupied Park Prague-Airport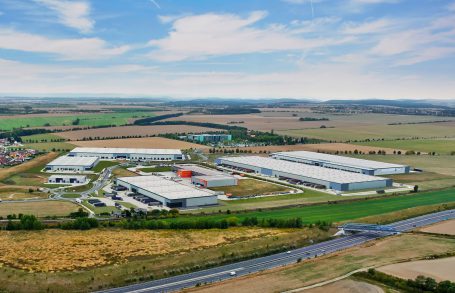 –        70 percent of space delivered as build-to-suit facility for EYELEVEL
Prologis, Inc., the global leader in logistics real estate, today announced that it has begun construction of a new 38,620 square meter facility at its fast-expanding Prologis Park Prague-Airport.
Building 3 will comprise of 27,370 square meters of BTS space for leading Czech store designer EYELEVEL, and 11,250 square meters will be delivered on a speculative basis to meet customer demand for this location. The facility will feature 12-meter clear height, a smart metering system, LED lighting, a license plate reader system, and relaxation zone/area. Completion is scheduled for the fourth quarter of 2018.
"Prologis Park Prague-Airport is one of the best-performing parks in our Czech portfolio as customers like EYELEVEL look to leverage its proximity to Prague International Airport, unparalleled access to national and international highways, and excellent infrastructure," says Martin Baláž, vice president, leasing and development, Prologis Czech Republic and Slovakia. "Currently, we have four e-commerce customers based at Prologis Park Prague-Airport leasing a total of 41,630 square meters, a clear sign the park is in an ideal location for 'last touch' delivery of products."
The transaction with EYELEVEL was facilitated by 108 AGENCY.
Prologis Park Prague-Airport is adjacent to the D6 motorway at Exit 7, five minutes from Prague Airport. The park currently consists of four fully leased facilities totaling 87,400 square meters, 38,620 square meters under construction and has potential development for another 9,600 square meters. It has excellent access to national and international trade routes via the D0 to the D5 and D1 motorways. Public transportation links, including a bus stop in the park, provide connections to Kladno and Prague, as well as to the train station.
Prologis is a leading provider of distribution facilities in the Czech Republic with more than 1 million square meters of logistics and industrial space (as of June 30, 2018).