Prologis Announces New Leasing Activity at Prologis Park Prague-Rudna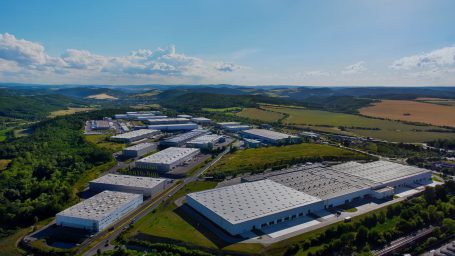 Diverse group of businesses chooses trusted partner Prologis as they aim for competitive advantage through the use of modern, efficient and flexible distribution centers
Prologis, Inc., the global leader in logistics real estate, today announced that five customers have signed leases totalling more than 17,000 square metres at Prologis Park Prague-Rudna.
The transactions comprise the following:
8,224 square metre lease renewal at Building 3 for Albatros Media, the largest Czech publishing group;
5,792 square metre renewal at Building 9 for computer and electronics e-tailer CZC.cz, a subsidiary of E-commerce Holding, which has taken over the lease from another of the leading Czech e-commerce group's subsidiaries, Digital Engines;
1,863 square metre renewal at Building 1 for a Czech manufacturer;
1,321 square metres for new customer Döllken Profiles, a German company focused on floor strips and floor profiles;
235 square metres of office space for new customer JC Print, a provider of print media and related services.
"The diversity of customers who have recently signed transactions at Prologis Park Prague-Rudna demonstrates the company's areas of expertise – namely, our ability to support a wide variety of customer businesses with flexibly organized space in prime locations close to major transportation hubs and big consumer/population centres," says Kateřina Březinová, leasing manager, Prologis Czech Republic. "Rent levels have increased significantly over the last two years and we expect further rent growth due to low vacancy rates, limited development opportunities and increased demand from customers."
Prologis Park Prague-Rudna is a fully developed park comprising almost 250,000 square metres of state-of-the-art distribution space, which is located 20 kilometres from the Prague city centre and 12 kilometres from Prague International Airport, directly off Exit 5 on the D5 motorway.
Prologis is a leading provider of distribution facilities in the Czech Republic with more than 1.1 million square metres of logistics and industrial space (as of June 30, 2018).