4 apartment buildings in Modřanský Háj received official approvals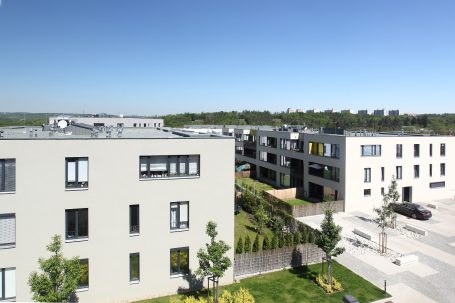 Avestus Real Estate, developer of the residential project Modřanský Háj, announces that it has received official approval for the first part of its second construction phase. New owners of 98 homes in 4 apartment buildings will start moving in at the beginning of 2020. Another 5 apartment buildings are now being constructed in Modřanský Háj and are expected to get approvals during 2020.
The second construction phase of Modřanský Háj, which includes 134 flats in 9 residential buildings, 5 semi-detached villas and 3 villas, was launched at the beginning of March 2018. Approval procedure for the first 98 flats was successful meaning the completion  of the whole residential project is approaching. The remaining units, constructed during the recent phase, are expected to receive approval in 2020. Already approved units include flats in 1+kk, 2+kk, 3+kk a 4+kk layouts located in the buildings of A, C and D types. All of them are equipped with their own balconies or terraces, front gardens, gardens or roof gardens. One-third of these flats had already had an owner before the construction began and now, all of them have been sold. 
David Kříž, Residential Development Manager of Avestus Real Estate, says: "The construction of Modřanský Háj is going according to the plan and time schedule. There is an enormous interest in the project, and of course we are very pleased as developers. The attractiveness of the development is evident in the small amount of available  free units at this time. Only a few more family houses and several building plots, completely equipped with utility networks and ready for individual construction, are waiting for their owners now. In the near future, these plots will undergo landscape arrangements to create even better conditions for their future owners to build their own ideal homes."
In the concept of Modřanský Háj, the emphasis has been placed on comfort and safety, neighbourhood atmosphere, timeless architecture and proximity to greenery. Great transport connections with the city centre, schools, kindergartens and playgrounds make the beautiful location of Prague's Modřany-Cholupice a perfect pick for families with children. Equally healthy lifestyle enthusiasts will appreciate the sports centre with tennis, badminton and beach volleyball courts, cycle routes suitable for rollerblading too or a golf court, all located nearby.