COME INTO BLOOM WITH THE PUMA X TABITHA SIMMONS COLLECTION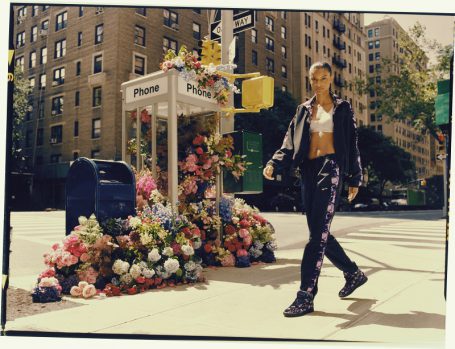 Sports company PUMA and British footwear designer Tabitha Simmons have teamed up for the first time to design a feminine collection that
stands out with premium materials and delicate, custom-made floral prints.
New York-based designer Tabitha Simmons has left her mark on fashion – from her celebrated
work as a stylist and contributing editor at Vogue, to founding her eponymous footwear label. The
PUMA x TABITHA SIMMONS collection brings Tabitha's decidedly feminine touch to PUMA's
sporty styles, with butter-soft leather and suede as well as a soft color palette.
Complementing these colors, the collection is decorated with roses, daisies and dragonflies, inspired by Tabitha's
British roots, creating an effortless look from day to night.
The PUMA x TABITHA SIMMONS collection features reimaginations of the PUMA CELL Stellar
and the Ralph Sampson. While both are available in soft sand tones, the CELL Stellar x TABITHA
SIMMONS also showcases rich, embossed nubuck leather across the upper with a bold floral
lining and the CELL heel tooling with more subtle floral graphics. The Ralph Sampson x
TABITHA SIMMONS comes in light nubuck leather but is also offered in black with all-over floral
prints and black midsole.
The PUMA x TABITHA SIMMONS collection also offers matching apparel such as the reversible
full-zip nylon track jacket with batwing sleeves, adjustable drawcord stoppers and practical
pockets, as well as track pants in black decorated with a floral T7 panel on the side. Accessories
include the shiny backpack with custom-made all-over print, a padded laptop pocket, a mesh
pocket on the front, and utility inspired webbing details as well as a waist bag with floral prints, a
frontal mesh pocket, chunky zippers with detachable keyring puller and webbing details.
Bloom in comfortable style with the first PUMA x TABITHA SIMMONS collection, dropping globally
on PUMA.com, PUMA stores and selected retailers on February 1. The PUMA x TABITHA
SIMMONS collection will debut via Drest, the world's first interactive styling game. Download the
Drest app to view the collection and participate in a series of dedicated brand styling challenges
using the collection