YOGHURT FRAPPUCCINO WELCOMES SUMMER IN STARBUCKS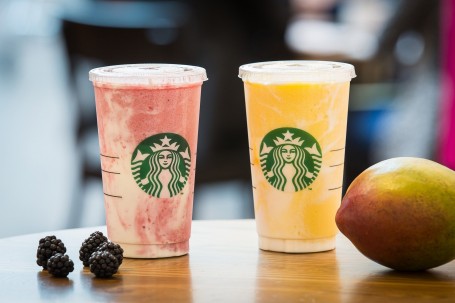 Prague, 12 May 2015 – AmRest Coffee Company, the exclusive operator of Starbucks stores on the Czech market, opens the new summer season with pleasure. This summer's selection brings the new Mango Passion Fruit Yoghurt Frappuccino that, together with the fresh Red Berry Yoghurt Frappuccino, will set the mood for summer. Thanks to the unique combination of yoghurt, fruit, and ice, Yoghurt Frappuccinos provide perfect refreshment.
The whole bean coffee of this season is the unique Kenya – a premium coffee that is among the best in the world. Being grown at high altitudes that create an ideal climate for aging and ripening combined with a strong tradition contributes to its undisputed value. Kenya coffee has been available in Starbucks stores since 1971. Its African origins can be found in its taste, which is known for its high acidity and notes of citrus fruits. Because of its unique taste it is ideal for preparing iced coffee. Customers can enjoy Kenya in their favorite beverages prepared in stores, as it is another limited edition of Origin Espresso. It can be also bought as a packaged coffee.
Those with a sweet tooth will be delighted by the seasonal desserts – the Strawberry Cheesecake and Coconut Pineapple Slice. The new selection also brings a new collection of summer themed mugs and tumblers which will be available from 12 May to 29 June.
During May, Starbucks will also broaden the selection of food, and the new items will remain a part of the core offer. Now, two yoghurts with chocolate strawberry and honey apricot combinations will be available together with mascarpone with raspberries and fresh fruit in the form of a melon mix and pineapple. A wide range of large and small salads will be available to satisfy those who are more hungry, and will include a couscous salad, tuna salad, and pasta with prosciutto – all of which are ideally suited to the summer season.
"Yoghurt Frappuccinos became very popular after their launch last year. Therefore we decided to broaden the variety and to bring something new to our customers," said Brian Aherne, Regional Director of Operations for the Czech Republic and Hungary who also added: "The choice of Kenya to be next in the Origin Espresso series was very clear because its unique taste pairs perfectly with the summer season."
Starbucks® Frappuccino beverages:
• NEW! Mango Passion Fruit Yoghurt Frappuccino – combines yoghurt, mango, and passion fruit blended with ice.
• Red Berry Yoghurt Frappuccino – combination of yoghurt and garden fruit blended with ice.
Seasonal whole bean coffee:
• Kenya – single origin coffee from Africa. It is characterized by bright flavors with a juicy acidity, subtle tones of wine and fruit flavors – from blackcurrant to grapefruit. Because of its unique taste, Kenya is also great on ice and is an important component of coffee blends designed specially for iced coffee.