Tristan Capital Partners & Portland Trust Secures Three New Tenants for Praha City Center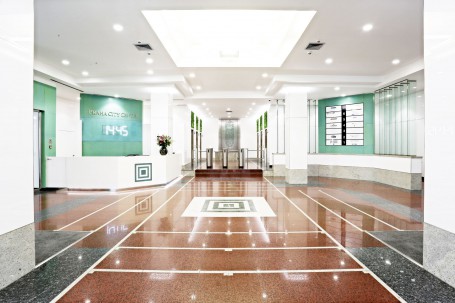 Tristan Capital Partners, a pan-European real estate investment fund, is pleased to announce three new lease agreements in their recently refurbished Praha City Center office building. The new tenants are leasing a combined 3,000 square metres of the 16,000 square metre property.
The new tenants include two law firms, Pokorný, Wagner & partneři (1615 sqm) and David & Macek (400 sqm) and as well as České dráhy (900 sqm). The importance of a Class A office building combined with the convenience of a well-established location made it a smart choice for these firms. Other tenants include Regus, Amgen and Baker & McKenzie.
Portland Trust, a leading CEE commercial real estate developer and asset manager, is responsible for Praha City Center's leasing and construction. Tristan Capital Partners entrusted the company with elevating Praha City Centre into one of the most dynamic Class A office building in Prague. Portland Trust is anticipating having the final 2,000 square metres of the building leased before the end of 2016.
"We would like to extend a warm welcome to our most recent tenants at Praha City Center and trust they will enjoy their new office environment," said Judita Middleton, leasing and asset manager for Portland Trust. "That convenience, coupled with our flexible space offering and excellent facilities makes the property ideal for a wide range of companies."
About Tristan Capital Partners
Tristan Capital Partners is an employee-owned investment management boutique specialising in real estate investment strategies across the UK and Continental Europe. Tristan's pan-European real estate funds include core-plus and value-added/opportunistic strategies with total assets under management of over €7 Billion. Tristan is the portfolio manager for core plus funds Curzon Capital Partners III and Curzon Capital Partners IV and for the private equity funds European Property Investors, LP, European Property Investors Special Opportunities, LP and European Property Investors Special Opportunities 3, LP and European Property Investors Special Opportunities 4 LP. Tristan's headquarters are in London and it has offices in Luxembourg, Milan, Paris, Stockholm, Dusseldorf, Madrid and Warsaw. Please visit www.tristancap.com.
About Portland Trust
Portland Trust was established in 1997 to develop high quality, institutional, commercial real estate assets throughout Central Europe.
Portland Trust has completed a wide range of projects including supermarkets, a regional shopping centre, office buildings and light industrial / logistic parks in the Czech Republic and Bucharest, Romania. Portland has completed over 550,000 m² of net leasable space of new buildings with approximately 45,000 m² net of new office space currently under construction in 2016.
Portland Trust is dedicated to a clear and simple environmental policy of using local, natural materials where possible, designing buildings in a fundamentally efficient manner, use of modern, efficient technology and adhering to both local and international guidelines for energy efficiency. The aim is to develop buildings that integrate into the local surroundings and that minimize the environmental impact.
For more information please contact
Pavel Schuster
Best Communications
pavel.schuster@bestcg.com
+420 721 300 030