AUTUMN TREATS AT COTTOCRUDO RESTAURANT AT FOUR SEASONS HOTEL PRAGUE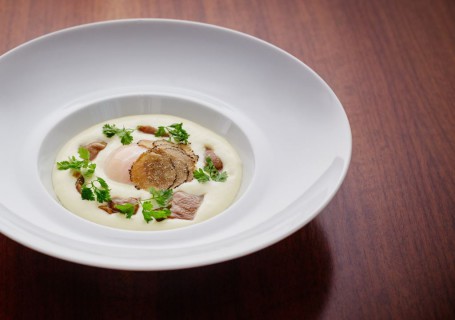 Weekend brunch and a special Lisini wine dinner at CottoCrudo restaurant
Autumn brings a chill to the air and beautiful colours to the trees. CottoCrudo at Four Seasons Hotel Prague is bringing two special dining delights for your pleasure in October. Every Saturday and Sunday beginning October 1, 2016 will be a weekend brunch while October 26 is a unique event with Lisini wines.
Weekend Brunch
CottoCrudo's new weekend brunch begins October 1. Guests' plates will be freshened with an amuse juice followed by a Chef's selection of Prosciutto, Salame and Ricotta as a starter. Guests can choose from a selection of egg dishes including Eggs Benedict with San Daniele, Prague ham or smoked salmon and Eggs Florentine with black truffle. Guests have the option to choose a main course as well which changes weekly and offers a fish, meat and pasta option. Those with a sweet tooth will appreciate the sweet and hot tastes of either Ricotta and lemon pancakes with cranberry compote or a Belgian waffle with maple syrup. Executive Chef Leonardo Di Clemente and his team will also be dreaming up a weekly sweet special.
Wine Dinner
A one of a kind opportunity for wine lovers. Carlo Lisi, owner of the Italian Lisini Winery will be at CottoCrudo for a dinner and wine pairing evening. Executive Chef Leonardo Di Clemente and his team have designed a beautiful menu to complement the fine wines from Lisini. The wine dinner has been organized with Vino Markuzzi, which represents 23 recognized and reputable Italian vineyards in the Czech Republic. Starting off with canapes in the bar, guests will enjoy Magnum Rustico Nino Franco, and Prosecco di Valdobbiadene brut superior. Tastes on the dinner menu include Duck Confit Raviolo; Roasted Pigeon with Cinnamon Chestnut Purée and Mezze Lune Beef Carpaccio with Truffle, each with a carefully selected Lisini wine. A selection of premium Italian cheeses closes dinner, with dessert, tea or coffee to complete the evening.