The Flow Building on Wenceslas Square nearing completion as Flow East tops out landmark Prague development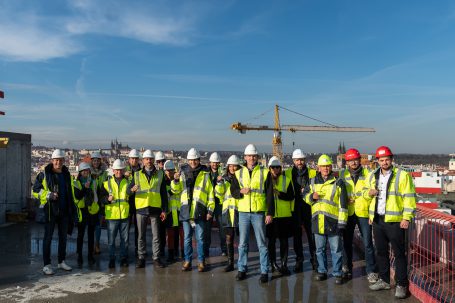 Flow East today announced the topping out of its landmark project being constructed on Wenceslas Square (Václavské náměstí) as contractor Metrostav placed the last beam atop the structure.
The ceremony that accompanied the topping out was attended by members of the project team including Sentient and Metrostav and marks an important milestone in the development of the project. When completed in summer 2020, The Flow Building will provide approximately
15,000 square metres of Class A office space and 6,000 square metres of Class A retail premises in the heart of the city's central business district.
"We have been working towards this moment for more than 13 years. Today brings our vision of creating a truly iconic contemporary building on one of the world's most historic squares a step closer to reality. The Flow Building will form an integral part of the urban renewal effort of Wenceslas Square, while establishing new standards for future developments in Prague," says James Woolf, CEO and founder of Flow East.
Combining 21st century design with state-of-the-art technology, this modern mixed-use building will represent the first example of a truly modern architecture on Wenceslas Square. The Flow Building's rippling façade will reach out over the pavement and use a complex 3-dimensional modular system to achieve a continuous curved surface.
The interior of the building will showcase the pinnacle of modern sustainable and environmental solutions. Pre-qualified by BREEAM with the rating of 'Excellent', the building will benefit from nine flexible floorplates of up to 2,500 square metres and an abundance of natural daylight. The building has been designed to incorporate passive technology to reduce client energy consumption, which will reduce energy demand and CO2 emissions.
Primark, the international retailer that offers 'Amazing Fashion at Incredible Value', has taken the opportunity to locate at what is destined to be one of the Czech capital's most iconic contemporary buildings by leasing 4,700 square metres of retail space over three floors. This will be Primark's first store in the Czech Republic and will feature the latest trends in women's, men's and children's fashions, including footwear, accessories, as well as lingerie and homeware. Primark is working with Flow East to tailor the space to fit Primark's exact needs.
Over the last 25 years of successful investments in the Czech Republic, Flow East has specialized in high-quality renovations of premium historical buildings as well as build modern developments. Flow East owns a portfolio of prime commercial and residential properties including also a deluxe hotel. Being a long-term investor, it continues to own and manage all properties after they have been developed.