The Flow Building on Wenceslas Square 75% leased ahead of July completion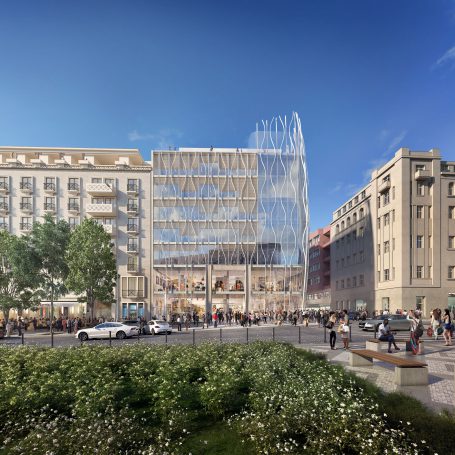 Flow East announces it has pre-leased 75% of its landmark mixed-use project being constructed on Wenceslas Square (Václavské náměstí), with just 5,000 square metres of office space left available at The Flow Building five months ahead of its completion.
The Flow Building, which will offer approximately 15,000 sqm of Class A office space and 6,000 sqm of Class A retail premises in the heart of the Czech capital's central business district, has attracted wide interest from a range of tenants looking for the rare chance to benefit from uninterrupted 2,500 floor plates in a new building that will represent the first example of 21st century design on Prague's most historic square.
On the retail side, the world's largest and most popular discount fashion retailer Primark will open its first store in the Czech Republic in The Flow Building, leasing all the retail space over three floors. Primark will provide its new Czech customers with all the latest trends in women's, men's and children's fashion, as well as footwear, accessories, lingerie and homeware.
Office space has been pre-leased to Scott & Weber, Graebel Relocation Services and a major multinational tenant yet to be disclosed. Scott & Weber will give The Flow Building further flexibility to accommodate an even wider range of tenants as a provider of premium coworking and serviced office space for companies of all sizes.
These tenants have chosen The Flow Building for its adherence to utilizing the most modern smart, green technologies and sustainable solutions to qualify for an 'Excellent' BREEAM rating. The building has been designed to incorporate passive technology that reduces client energy consumption and CO2 emissions, provide an abundance of natural daylight, and to ensure the optimum internal environment through parametrically controlled solar shading and openable windows. The tenants of the building will also have access to a "Flow Zone" common room on the top floor with majestic views of the National Museum and access to a rooftop terrace with panoramic views of Prague.
The two underground parking levels will offer the largest number of spaces with access to electric charge points in central Prague (50 out of a total of 129). There are also electric charge points for
e-bikes alongside changing rooms and showers for tenant employees.
"The level of pre-leasing at The Flow Building is an endorsement of our vision to create an iconic, state-of-the-art contemporary building on one of the world's most historic squares. The Flow Building is intended not only to establish new standards for future developments in Prague, but also to become home to some of the world's finest companies and brands, and provide the public with a premier shopping destination," says James Woolf, CEO and founder of Flow East.
Over the last 25 years of successful investments in the Czech Republic, Flow East has specialized in high-quality renovations of premium historical buildings as well as building modern developments. Flow East owns a portfolio of prime commercial and residential properties and a deluxe hotel. Being a long-term investor, it continues to own and manage all properties after they have been developed.