Horizon to develop more than 1,000 apartments in 2020 in its portfolio and expects sales worth 2.5 Bln CZK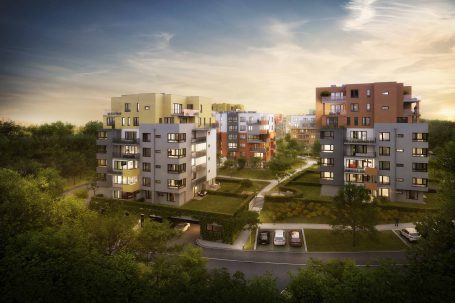 Horizon, the development group, plans to strengthen its position on the market. This year the company plans to develop more than 1,000 apartments in several residential projects, to launch the sale of additional units, and to add other residential projects to its own portfolio. In so doing, Horizon plans to expand its operations into another real estate sector. In 2020, the company expects sales of 2.5 Bln CZK. In this way, one of the largest developers in the Czech Republic intends 2020 to smoothly build on a very successful 2019.
During Q1 Horizon expects to obtain permission to commence the last phase of construction for Modřanka Residence, a multifunctional building with 50 apartments and 3 commercial units. The whole complex, whose previous 4 stages have already been sold, will have 355 flats. In addition, Horizon will begin the construction and sale of the second stage of the new Zahálka residential district – a modern neighbourhood close to the Hodkovičky golf course and Prague's main bike path. Zahálka will offer more than 230 flats to potential customers. Horizon also plans to begin construction for the Sluncová project, with 220 apartments in Prague-Karlín.
"In 2020, we plan to continue investing in   Prague. Our goal is to expand not only residential projects, but also investments in new sectors. We have created a diverse real estate portfolio, and I am pleased to see how all its components meet with great client approval. In our projects, we emphasise the highest levels of quality and sustainability in construction, as well as the added value these projects bring to their surroundings, wherever they are built. All these will be decisive considerations in the projects which we will begin this year," says Yishay Furman, CEO Horizon Holding, about the upcoming plans.
2019 was marked by the achievement of important milestones for Horizon. One was the achievement of a BREEAM certfication of "Very Good" for the two stages of the Modřanka Residence residential complex. The complex became only the second residential project in the Czech Republic to receive BREEAM certification. All 143 units of the two award-winning Modřanka stages were also handed over to new owners last year. In 2019, Horizon registered uncommon interest in units in the Zahálka and Čámovka projects, where over 150 apartments were sold together. Last but not least, the apartments in the Velká Brána project in Horoměřice were sold.
Together with companies Karlín Group and Ungelt Group, Horizon started the construction and sale of the KAY River Lofts project last year, which builds on the successful cooperation of the award-winning Vltava Residence projects, also in Prague's Karlín. The KAY project, launched at the end of last year and offering 55 luxury residential units, will become a design gem of this increasingly popular Prague district.