THE DESCENDANTS IS COMING TO DISNEY CHANNEL!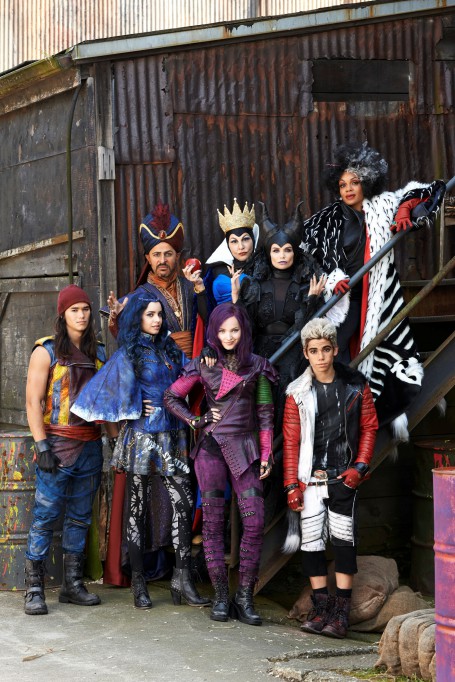 MEET THE TEENAGE OFFSPRING OF DISNEY'S MOST INFAMOUS VILLIANS IN THE BRAND NEW DISNEY CHANNEL ORIGIANL MOVIE

– Film premieres on Saturday, 19 September at 10:30 a.m. –
PRAGUE – 1 September, 2015 – Disney Channel will premiere its eagerly anticipated original movie, "The Descendants," in the Czech Republic on Saturday, 19 September at 10:30 a.m.
Staring Dove Cameron, Sofia Carson, Cameron Boyce, and Booboo Stewart, "The Descendants" introduces Disney fans to the offspring of its infamous villains you never knew they had. In this unexpected story of what happens after the "happily ever after," the trouble-making descendants of Maleficent, the Evil Queen, Cruella de Vil and Jafar are offered a chance at redemption after being sequestered on the Isle of the Lost for 20 years.
Can these sons and daughters of evil peacefully attend prep school alongside the teenage progeny of Fairy Godmother, Cinderella, Sleeping Beauty and Mulan? Only time will tell if these evil teens will turn toward goodness or follow in the footsteps of their wicked parents.
Enjoyable for the entire family, "The Descendants," gives a knowing wink to traditional fairy tales and fuses castles with classrooms to create a contemporary, music-driven story about the challenges in living up to parental and peer expectations.
Emmy Award-winning Kenny Ortega ("High School Musical") directs, choreographs and executive-produces Disney's "Descendants." Wendy Japhet ("An Education," "The Italian Job") is also an executive producer. Paul Becker ("So You Think You Can Dance Canada") is the co-choreographer. The script was written by Josann McGibbon and Sara Parriott (creators and Emmy and WGA Award-nominated writers on "The Starter Wife"; writers of "Runaway Bride"), who are also co-producers. Mark Hofeling ("Teen Beach Movie," "High School Musical") is the production designer and Kara Saun ("Project Runway") is the costume designer.
Disney Channel is a 24-hour kid-driven, family-inclusive television network that taps into the world of kids and families through original series and movies. Currently available on basic cable in over 96 million U.S. homes and to millions of other viewers on Disney Channels around the world, Disney Channel is part of the Disney ABC Television Group.