Summer Exfoliation Treatments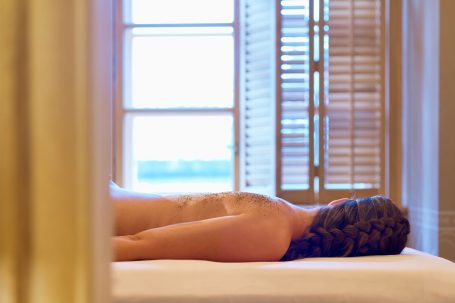 Summer is finally here and that means holiday season. Before slipping into bikinis and embarking on indulgent sunbathing sessions, it's worth unearthing the secrets of a long-lasting, perfect sun-kissed glow. The Four Seasons AVA Spa has the perfect range of luxurious and reviving exfoliation treatments to ensure skin is holiday ready.
The Importance of Exfoliation
Exfoliation is the key to smooth, healthy, glowing skin. Dead skin cells can build-up, resulting in an un-even, dull appearance with a rough texture – hardly ideal for bikini season.  Furthermore, this build-up can cause clogged pores and excess oil production that leads to blemishes and acne. One of the best beauty tips to invest in before going on holiday is a full body exfoliation treatment to ensure skin is radiant and ready for a holiday in the sun.
"The best way to achieve polished, radiant skin is to prepare the skin properly with exfoliation, allowing your whole body to feel fresh and to look glowing. Exfoliation removes layers of dead skin cells, creating a smoother and rejuvenated surface. Investing in a summer skin preparation treatment is a great way to feel confident and healthy with the perfect holiday glow," says Anna Larina, AVA Spa manager.
Four Seasons Exfoliation Massage
The replenishing exfoliation massage at the AVA Spa is the ultimate pre-holiday treatment. Return harmony to your body with the application of warm soothing oils, followed by an exfoliating massage with mineral salts and plant essence. A variety of exquisite Sodashi aromatherapy salts are available to choose from to create a massage tailored to individual needs.
The Vanilla Body Exfoliant is a gentle option for a full-body exfoliation, which will revitalise and hydrate the skin. Containing Sandalwood Powder combined with olive oil and vanilla extract, this treatment is the perfect tonic for relaxing the mind and body.
For a more invigorating exfoliation, the combination of Sodashi's organic green tea salt and mineral-rich Himalayan crystal salts stimulates deep circulation and relieves stress and fatigue. It cleanses and exfoliates your skin while being rich in anti-oxidants and vitamins C and E.
Let the pampering continue after returning from holiday. To unwind and reset, the Body Balance Salt Therapy Exfoliant is a thoroughly relaxing salt therapy exfoliant. which rebalances and revitalises the mind and body while assisting in the relief of stress and fatigue following long periods of travel. As a finishing touch, the application of a richly-scented Sodashi moisturizer or body butter will leave your skin feeling vibrant, replenished.
50 – 80 MINUTES
CZK 4100 – 6100
Detoxifying Body Wrap
For a deeper cleanse, the AVA Spa Detoxifying Body Wrap combines the richness of sea plants, algae, marine minerals and plant essences for a treatment that is intensely detoxifying on all levels. Exfoliation using Sodashi's Organic Green Tea Salt Therapy will leave your skin soft and enlivened. A warm Sodashi Marine Body Mask is then applied before you are cocooned in a comforting wrap in our "soft pack" – a bed filled with warm water that gives the sensation of floating, a perfect holiday warmup. Enjoy a soothing scalp massage for complete and utter relaxation. To finish, a luscious lotion leaves the whole body feeling rejuvenated and ready for a holiday.
80 MINUTES
CZK 7800