Rheinmetall announces 6 Slovak industrial partnerships at IDEB 2022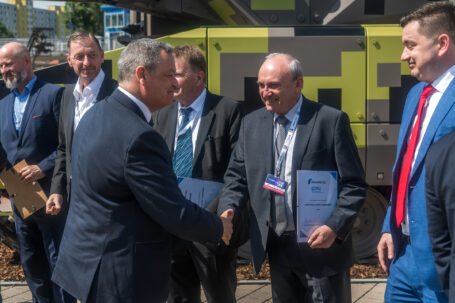 Rheinmetall Group, the German defence systems company which recently released details of its new 26,000 square-metre factory at Moldava nad Bodvou, has announced six CSAs (Conditional Supply Agreements) with Slovak companies at IDEB 2022, the leading European military and defence equipment exhibition in Bratislava.(A CSA is the formalization of an MOU – (Memorandum of Understanding) – and is confirmation of the industrial partnership which has been discussed and negotiated between the two parties).
Rheinmetall is competing for the running tender for 152 Infantry Fighting Vehicles for the Slovak Army. The purpose of these agreements is the delivery into the production of these vehicles and to maximise the local Slovak content. The signing of the CSAs in this early stage of the project is a big commitment of Rheinmetall to the Slovak defence industry. Once the Slovak partner companies are integrated into Rheinmetall's industry network they will probably also benefit from the growing demand in Rheinmetall's global supply chain.The six agreements announced at IDEB are with:
Aliter Technologies in Bratislava, a leading IT company providing equipment and services and specialized in military communications and information-processing.
CSM Industry in Tisovec, a company with a sterling reputation in the manufacture and supply of heavy engineering, large-scale machinery and machine tools.
EVPU in Nova Dubnica, a well-known manufacturer of high-quality electrical and electronic components with a specialist focus on the defence systems industry and a speciality in remote control.
MSM Land Systems in Trencin, a producer of a wide range of vehicle systems, military container solutions and sub assemblies  and provider of engineering capabilities.
Ray Service in Zilina, a prominent European supplier of cabling, harnesses and electromechanical assemblies.
VRM in Trencin, an international leader in the design and production of state-of-the-art simulation systems for training, with particular relevance to military land and air applications.
RHEINMETALL WELCOMES ITS NEW SLOVAK PARTNERS
Rheinmetall Group took the opportunity provided by IDEB 2022 to announce the signing of the CSAs with these six Slovak industrial partners.
Mr Oliver Mittelsdorf (Executive Vice President Sales) said: 'We could not be more delighted to have reached formal, long-term agreements with these excellent Slovak companies.These companies are the first of what we hope will be many Slovak participants in our Central European defence systems engineering confederation.
I should also add that these agreements are initially centred on the Lynx Infantry Fighting Vehicle but stretch far into the future, covering co-operative development and manufacturing arrangements for a great variety of other Rheinmetall equipment, vehicles and systems destined to be delivered in partnership with our Slovak colleagues'.