PUMA TAKE ON 80'S MUSIC VIBES FOR THE NEW RS-0 SOUND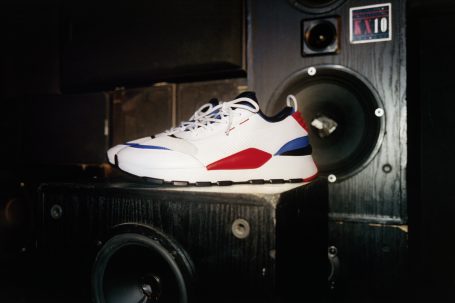 Back in the '80s, the original RS (Running System) was an innovative, high quality cushioning technology. Today, PUMA rebooted the RS design and reset it back to zero – stripping it down to the basics, then building it up with modern materials and new cushioning tech. The RS-0 has arrived with an innovative design that's evolved from the past and distinctly future looking.
PUMA has explored cultural genres such as gaming, music, photography and more to tell these stories of reinvention. And it continues this summer with sneaker drops inspired by music and sound. To celebrate this pillar within the pop culture spectrum, PUMA introduces the new RS-0 Sound.
The RS-0 Sound tells stories of remixed culture and musical reinvention. Inspired by '80s drum machines, music videos and bright colored fashion, the sneaker comes in diverse color ways and fun color block design. The silhouette also throws you back to the era where running shoes ruled the streets and dance floors. With added loops, sleek lacing system, subtle perforations on the vamp, a tonal embossed Formstrip and bright colored padded inserts. Definitely retro looking but with a futuristic vibe. The R-System logo puts the finishing touch on the tongue and outsole.
Get your hands on the RS-0 Sound at PUMA.com, PUMA stores and leading sneaker retailer with a limited release on July 28th and available worldwide on August 16th.