Priceless Specials: A MasterCard Rewards Program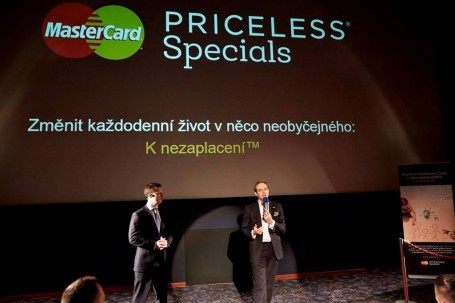 New loyalty program for Czech MasterCard cardholders includes money back and a chance to make your dreams come true!
MasterCard (NYSE: MA), a leading technology company in the world of global payments, today launched the MasterCard Priceless Specials rewards program, which was designed specifically for all MasterCard and Maestro cardholders in the Czech Republic. Members can enjoy money back from purchases made at select retailers, making it easier to save on the day-to-day necessities and putting more toward passion projects and dreams.
Currently, 21 businesses with more than 600 branches throughout the Czech Republic are partners in the program, including Alpine Pro, Benu pharmacies, EXIM tours, ETA, Orsay, Pet Center, and Pompo, though cooperation with additional retailers is under negotiation.
"The basic principle of Priceless Specials is 'money back,' that is, returning a certain percentage from the purchase back to the customer," said Matouš Michněvič, Business leader for products and the Priceless Specials program, MasterCard. "A program of this kind – one that is not limited to a concrete retailer or clients of a single bank – has not been launched in the Czech Republic yet; Priceless Specials members will benefit from a broad spectrum of retailers, in other words, not only from a single retail chain or bank."
In addition to money back, when registering for the rewards program, MasterCard cardholders will receive several discount vouchers from selected retail partners, as well as a chance to fulfil their dreams:
"During the registration process, members will be asked to fill in a personal profile, including their hopes and dreams, and once a month, we will fulfil one of these: be it tickets for the UEFA Champions League finals, a family trip to Disneyland or a meeting with a celebrity; people have a chance to turn their dreams into reality," added Martina Piskorová, Marketing Leader, MasterCard. "Priceless Specials turns daily habits of paying for goods and services, into something extraordinary."
MasterCard offers other unique assets while fulfilling dreams; for instance, its global partnership with UEFA SuperCup, 2015 World Rugby Championship, The Walt Disney Company, Roland Garros tennis tournament, Cirque de Soleil, etc.
Every MasterCard and Maestro cardholder is eligible to join the program at www.specials.cz. Money back from each purchase varies from 1 to 15 percent, depending on the retailer. Money will be collected on a special online account and automatically sent back to the card after every 100 CZK, though the frequency may be increased according to the cardholder's preference. An overview of the current balance and all payments is accessible at all times via the online account or call centre.
"We always try to provide our clients with something extra and Priceless Specials does just that; moreover, it is transparent, easy-to-use and free.We have decided to offer membership to Priceless Specials to all our MasterCard cardholders," said Ján Franek, Supervisory Board Member and Spokesman, Fio Banka.
"Even though we have our own loyalty program, we agree that Priceless Specials is another channel to reach and attract our customers, and to strengthen our market position," said Jan Janáček, Area Manager, Orsay.
Additionally, Priceless Specials aims to reduce the number of loyalty cards in customers' wallets. "Along with partner banks and retailers, we have taught people how to pay contactlessly over the past four years," explained Matouš Michněvič. "I believe that over the next four years, thanks to Priceless Specials, the number of loyalty cards in most wallets will be significantly reduced and people will be paying much more with their cards. Compared to the western markets, there is still a lot of room for additional growth."
"Priceless Specials should teach Czech consumers to use their cards more often. Payment by card is safe and quick," added Miroslav Lukeš, General Manager for Czech Republic and Slovakia, MasterCard. "The program is aimed at reminding our cardholders of this and also to give them something extra for their loyalty."
Priceless Specials was also launched this week in Slovakia with 14 partners and almost 180 shops. Gradually, implementation in other countries is scheduled.