STARBUCKS BARISTA CHAMPIONSHIP: WE HAVE A CZECH FINALIST!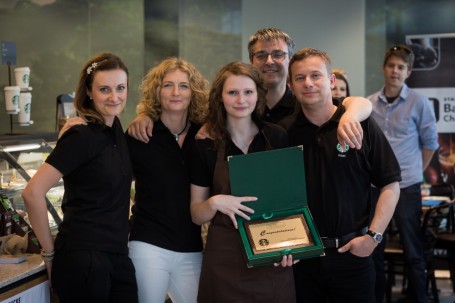 Starbucks Czech Republic sends its first ever representative to the final round in London
Prague, 27 May 2015 – This year, Starbucks Czech Republic will participate in the Starbucks Barista Championship for the first time, a competition that will ultimately determine the best Starbucks barista in the EMEA* region. The final round of the competition will be held in August in London, where the jury will award the title of Starbucks Barista Champion to the best representative of the participating countries.
Starbucks baristas all share a passion for coffee, a deep knowledge of their field, and a love for creating a unique store environment, providing customers with an exceptional experience during each visit.
"At Starbucks, we pay great attention not only to coffee, but also to training baristas who become our coffee experts. They know everything about coffee – about its preparation as well as about its origin, cultivation, and processing. The Starbucks Barista Championship is a unique opportunity to compare this knowledge, experience, and passion," said Adam Mularuk, Starbucks President CE.
Starbucks Barista Championship contestants' skills are measured in several categories – nominated Starbucks representatives from the Czech Republic have already been tested in the regional round about their professional knowledge, coffee tasting skills, and skills behind the bar. Four baristas continued to the national round, which took place at Starbucks The Park at Chodov on 25 May, where they also presented their own signature beverage. Charlota Cingelova emerged as the Czech finalist, achieving extraordinary results in all categories.
"I'm extremely pleased to be advancing to the international level, as I believe this is an opportunity for me to share my passion for coffee and pass my knowledge onto others," said Charlota Cingelova, Starbucks' Czech finalist from the Starbucks Nova Karolina Ostrava store. She added: "It is a tremendous honor for me to represent the Czech Republic at the European round in London, and I will definitely put in 110%."
The European round of the competition will be held in August 2015 in London, where the Czech finalist will compete with the best Starbucks baristas from around Europe. In terms of preparation for the European finals, winners of individual countries will attend a several-day training course at Starbucks' coffee roasting plant in Amsterdam. The winner of the Starbucks Barista Championship will be awarded an once-in-a-lifetime visit and experience to a coffee plantation in Africa.