Prague Castle ceremony will commemorate 70th anniversary of Czechoslovak airmen's return to their homeland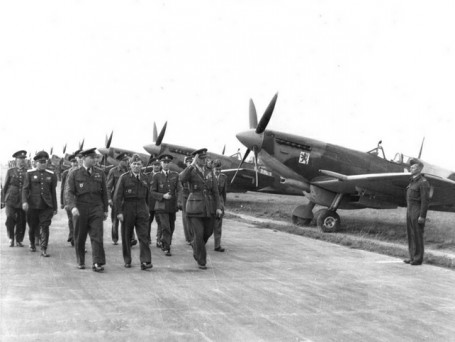 Prague, 6th August 2015: On Friday the 14th August a grand ceremony in Hradčanské náměstí will celebrate the 70th anniversary of the return home of the Czechoslovak airmen who escaped Nazi oppression, made their way to the United Kingdom to join the Royal Air Force, and fought with the RAF to secure the restoration of Europe's freedom. Nearly 2,500 Czechoslovaks joined the RAF in World War II; more than 500 were killed in action.
The ceremony will begin at 11am, and showcase a life-sized replica Spitfire Mk. IX in front of Prague Castle. The ceremony is organised by the international non-governmental organisation CYRIACS – the Knights of the Cross with a Red Heart and sponsored by Best Communications. The event has received wide support from both civil and military Czech organisations such as European Military Educational and Recreational Centre Jemnice of the RAF Air Marshal Karel Janoušek; the Endowment Fund of the RAF Air Marshal Karel Janoušek; The Czech Union of Freedom Fighters; The Czech Spitfire Club; and the Air Club of General Janoušek. The ceremony is organised under the auspices of Ing. Oldřich Lomecký, Mayor of Prague 1. Also attending the event, we will be honoured to have three World War II RAF veterans: Brig. Gen. Emil Boček, Col. Pavel Vranský and Jiří Kafka. There will also be several RAF members' widows present such as Vlasta Šišková and Hana Fajtlová. As a part of the ceremony, Cardinal Dominik Duka will lead a prayer.
Prior to the ceremony, wreaths will be placed at the Memorial of Fallen Czechoslovak Airmen between 1939-1945 in Dejvice on Thursday, 13th August at 10am, and at the Winged Lion Memorial in Klárov at 11am.
Euan Edworthy, founder and chairman of Prague PR agency, Best Communications, the originator of the Winged Lion Memorial Appeal and a general sponsor of this event, says that the Czechoslovak contribution to allied victory in World War II has been overlooked: 'We often forget that the Royal Air Force was a multi-national confederation and that Czechoslovaks formed one of its largest national contingents. In 1940, the RAF was all that stood between European freedom and Nazi tyranny. Nearly 2,500 Czechoslovaks made their perilous way out of occupied Europe to help sweep the Luftwaffe from Britain's skies. Their heroic deeds must not be forgotten'.