PLAY ON: FUTURE AND STYLE RIDER GET A FUTRO MASHUP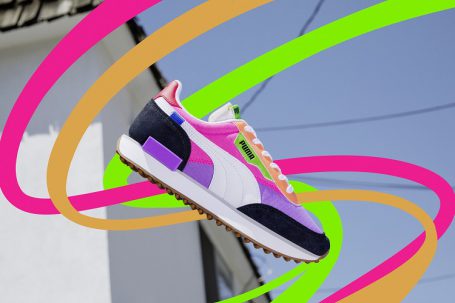 Sports brand PUMA is giving the iconic FAST
RIDER running-inspired shoe a fresh look for 2020. Fronted by PUMA Ambassador YBN Cordae
along with dancer and singer DaniLeigh, the new FUTURE RIDER Play On and STYLE RIDER Play
On fuse futuristic and retro designs through vibrant futro color combos and nostalgic style nods.
First up is the FUTURE RIDER Play On, available for adults and kids. The sneaker shows off a sleek
white midsole and Formstrip as well as black suede overlays and drops in a vibrant blue color
paired with red and neon green or juxtaposed with bold 80s color splashes like neon green, pink,
orange and violet. The FUTURE RIDER Play On also references the past with a corrugated outsole
inspired by the original FAST RIDER's Federbein conical studs, in addition to a TPU heel stabilizer
for added balance.
The STYLE RIDER Play On carries a bit more flash, featuring a nylon upper and suede overlays in
bright and black. The shoe boasts a striking midsole in vibrant red and white, plus new shockabsorbing
RIDERFOAM for high rebound. This is all topped off with a retro-inspired corrugated
outsole and the white Formstrip.
Both the FUTURE RIDER Play On and STYLE RIDER Play On dropping worldwide on PUMA.com,
as well as in PUMA stores and selected retailers on February 22.