Emirates helps Arsenal prepare for Premier League run in with training camp in Dubai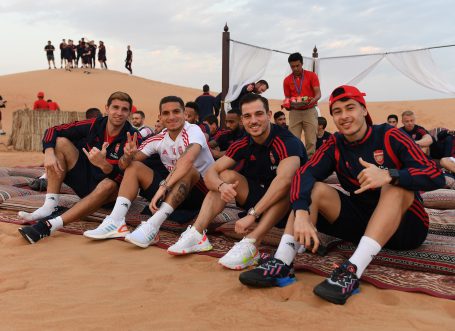 Arsenal is wrapping up their winter training in Dubai, enjoying the city's warm weather, incredible training facilities and iconic attractions courtesy of Emirates and Arabian Adventures before heading back to complete the second half of the season. This is the first time the full Arsenal squad visits Dubai.
While in Dubai for an intensive training camp, the Gunners were treated to a 'sunset desert safari' yesterday, complete with a dune drive and spectacular sunset views. The team also were able to enjoy panoramic views of the desert at the Bedouin desert camp before enjoying traditional Arabic entertainment and food.
When not training, many of the players ventured out with their teammates and families to enjoy the city's latest attractions and legendary landmarks. Dubai's growing list of attractions, pristine beaches, warm weather and iconic architecture made it a destination of choice for over 16 million visitors last year. The vibrant city's diverse and high quality tourism offer has made it accessible for every taste and type of traveller.
The relationship between Emirates and Arsenal is one of the strongest and most recognised sporting partnerships in the world. Emirates is Arsenal's longest standing partner with a relationship that dates back to 2006. The partnership grew from then, with Emirates becoming the official shirt sponsor of the club, and holding naming rights to Arsenal's stadium until 2028. The airline has also been working with the club to engage fans from all over the world through various initiatives and marketing activities, tapping on the synergies between Arsenal's world-wide fan base and Emirates' global network and reach.