Pink Crocodile Receives Generous Donation from Scottish Volunteer Organization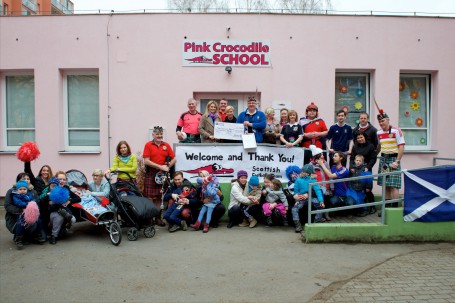 For-charity football team selects Pink Crocodile for GBP 5,000 donation
PRAGUE, 24 March 2015: Pink Crocodile, an international non-profit organization supporting hearing impaired children and children with complex needs, yesterday accepted a donation of GBP 5,000 from the Tartan Army Sunshine Appeal (TASA), an amateur Scottish football team dedicated to children's charities across every country in which the Scottish National Football Team competes.
Comprised entirely of volunteers who share a passion for Scottish football and helping children in need, TASA has selected Pink Crocodile for their donation in Prague on the occasion of today's match between the Czech and Scottish national football teams at Generali Arena in Prague.
"It's a great pleasure for us to be here in Prague and to be able to further the cause of Pink Crocodile," said Neil Forbes, TASA. "Since 2003, it has been our mission to help children and their families who need it, and this organization is a shining example of what it means to make a positive difference in children's lives."
Dressed in kilts and adorned with bagpipes, TASA team members presented a symbolic check to the Pink Crocodile School's staff, students and parents during a celebratory afternoon held on the school's campus in Prague 18.
"We are very honored to have been chosen as the beneficiary of TASA's kindness and caring," said Pink Crocodile director, Dagmar Herrmannova. "This generous donation will go directly toward the Pink Crocodile School, an education centre and therapy programme for special needs children here in Prague. Needless to say, we will all be watching the match against Scotland!"