Palmer Capital Continental Europe Welcomes New Penny Market in Zlín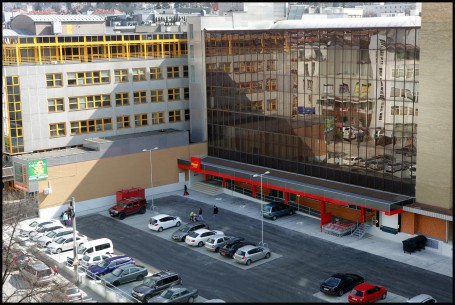 Prague, 29 March 2016: Palmer Capital Continental Europe today witnessed the successful grand opening of a new Penny Market, a Germany based discount supermarket chain, in its recently refurbished building in Zlín city centre.
Long term lease for 1,400-square metres is one of several recently signed agreements since Palmer Capital's acquisition of the former post office in 2012, which also now includes a new Kozlovna restaurant. Located adjacent to City Hall, the building has undergone considerable renovation to offer more convenient access to pedestrians from the main square, including an escalator, as well as 55 parking places.
"Given its location and former role as a post office, the building is somewhat of an institution in Zlín," said Zbyněk Laube, Head of Asset and Development Management CEE at Palmer Capital Continental Europe. "We saw an opportunity to restore it from its state of disrepair and are thrilled with the success of its refurbishment, as we have only two remaining commercial units left for  lease. I am confident that with the high interest from both international and local companies, the building will once again become a frequented commercial centre."