'NO SEGWAYS ON FOOTWAY' SAYS FLOW EAST'S WOOLF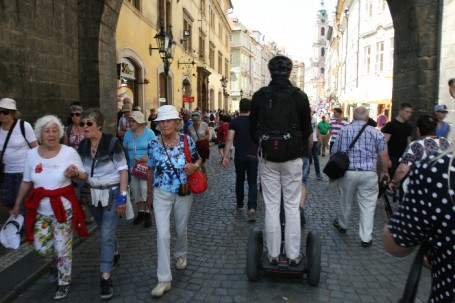 Prague, 5th June 2015 – We've all had the experience of being forced off the footway in central Prague by gaggles of silent, "Cyclops's" careering through the streets at 10 kph under the control of inexperienced users and scattering pedestrians in all directions. Every week the newspapers report yet another bruised victim. They are called 'Segways' and James Woolf of Flow East is calling for them to be banned.
"Prague's streets are crowded with pedestrians. 17 million visitors come to Prague every year because it is a walker's paradise. The deep beauty of the city is such visitors are looking up and around and the unique history all around them. To not regulate the use of unlicensed motorised vehicles on these streets is an oversight which needs to be promptly corrected as surely no-one wishes to allow these anti-social contraptions to put people's lives and limbs at risk," says James Woolf, CEO of Flow East.
Woolf says the authorities have made a category error: "Segways appear to fall under no existing classification. As a result, they are treated as if they didn't exist by the authorities, so the law allows them to wobble along narrow footpaths as if they were human beings. They are not: they are heavy, dangerous machines and have no place on the city's sidewalks. If someone were to ride a bicycle 10kg on the footpath in Prague 1 the police would take action – but it seems a 55kg Segway under the control of an inexperienced tourist is allowable. I work in Prague 1 and have noticed many times users on them who are both under and above the manufacturers permitted weight limit for safe operation of the Segway. Czech Tourism spends hundreds of millions of crowns per year promoting national and international visitors to come to Prague – it would seem prudent to allow them the chance to enjoy the beauty of the capital city without having to be on constant alert for Segway's rushing past."
Segways are a popular tourist gimmick but the trail of accidents has seen bans imposed in London, San Francisco and Los Angeles. Prague has eight Segway rental outlets. Public protests have so far met with inertia, though Prague One has wisely banned Segways from Kampa Island.
Woolf says: "You don't have to think about this very hard. Dense crowds of walkers, many of them sight-seeing, plus 55 kg unguided weapons competing for the same space on the pavement. It's a recipe for disaster. We don't want them, we don't need them. It's high time the City put a stop to this menace".