NEXT ERA OF PUMA DUALITY BOOTS NOW ON PITCH IN STRIKING ORANGE AND BLUE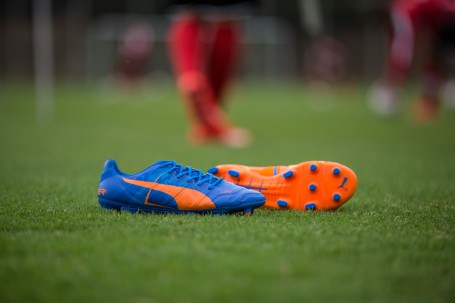 PUMA Sets Performance Challenge Between evoSPEED & evoPOWER Players
Herzogenaurach, Germany (25 September 2015) – PUMA today launched the latest iteration of its eye-catching Duality boots, continuing the theme of two distinct coloured boots in one pair, which PUMA were the first to introduce. The Head To Head Duality colourway is applied to PUMA's two football boot families, evoPOWER and evoSPEED. A selection of high profile players will wear one orange and one blue boot in up to three competitive club matches, representing either team evoSPEED or evoPOWER, which PUMA is now pitching against each other for a special competition.
Activated through a social media programme, PUMA is challenging the players of each boot family to go 'Head To Head' and outperform the other. A scoring system counts in game action such as goals, assists and completed passes of all the participating footballers, to determine which team is more successful. Cesc Fàbregas, Mario Balotelli and Olivier Giroud are three members of the wider evoPOWER team which will compete against stars such as Sergio Agüero, Marco Reus and Antoine Griezmann of the evoSPEED crew.
True to sporting competition, fans have to pick the side they want to support. Joining either the evoPOWER or the evoSPEED team, social media users can follow their chosen star line up and its performance through insightful infographics, whilst being invited to share images of their own PUMA football boots and experiences.
Sergio Agüero, star striker of Manchester City FC and captain of the PUMA evoSPEED team said about the challenge, "There is no way we will lose against the evoPOWER team. Our team includes sensational players such as Falcao, Reus, Verratti and many more. And me of course. (Laughs) Seriously speaking, I will try my best and hope I will score some goals for my team."
Cesc Fàbregas, leader of the evoPOWER team commented, "evoPOWER players use the boot to help their accurate and powerful style of play, and we hope to live up to this reputation. Maybe we won't score the most goals, but I am sure that with players like Yaya Touré, we will gain many points through completed passes and some beautiful assists. I am up for the challenge!"
The new Head To Head Duality boots further enforce PUMA's ownership of the two-differently-coloured-boots concept, which was first introduced for the World Cup in 2014, and further established through a special edition Arsenal FC boot, and various personal player executions at the end of 2014 and earlier this year.
Selected retailers have the Head To Head Duality colourway available from now for both evoSPEED and evoPOWER. For more information on the concept and the social media activations, follow PUMA Football on Twitter, Facebook and Instagram, or visit puma.com/football.
Images of these special edition football boots are now available to download from PUMA's media center: news.puma.com