Kuehne+Nagel strengthens its European fleet for the pharmaceutical industry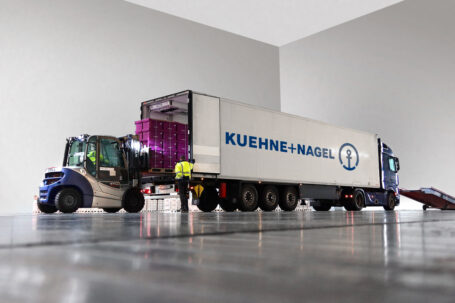 As part of the European Pharma Fleet programme, the Group will purchase dozens of specially adapted trailers
Kuehne+Nagel, the world's leading logistics service provider, is expanding its fleet in Europe with tens of new trailers for customers in the pharmaceutical sector. This is in response to the high demand for transporting medical goods, which it has been covering since 2018 under the European Pharma Fleet (EPF) programme.
By the end of this year, 20 new trailers will be added to this dedicated fleet for the pharmaceutical industry, with a further 30 to be added by March 2022. Kuehne+Nagel currently has 250 of these trailers in operation, 80% of which are configured for dual temperature storage. This feature is key, for example, in the distribution of vaccines. By expanding its European Pharma Fleet, Kuehne+Nagel is responding to the growing demand for vaccine distribution while maintaining flexibility in an unstable market environment.
In order to minimize downtime, all Pharma Fleet trucks have two drivers. Moreover, the fleet is compliant with Transported Asset Protection Association (TAPA) standards, giving manufacturers and countries the assurance of maximum transport security while allowing shipments to be tracked.
When it comes to transport for the pharmaceutical segment, the Kuehne+Nagel Group also has a strong presence in the field of air logistics.  It has previously been involved in the transport of millions of doses of COVID-19 vaccines around the world – specifically to Ukraine, Chile and Thailand, for example.