Kiwi.com receives International Treasury Award for Global Payments and Collections Solution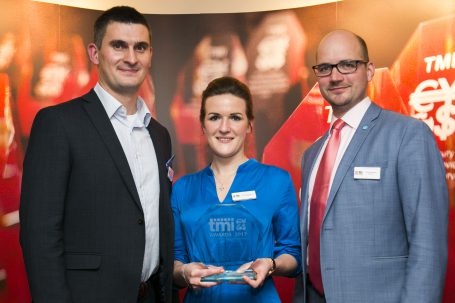 Kiwi.com won in the category Global Payments and Collections Solution (Corporate Recognition category) in the 2017 TMI Awards for Innovation and Excellence in Treasury Management.
Kiwi.com, the innovative travel search and booking engine, has been recognized for its original approach to managing payments and collections, as well as cross currency flows. Kiwi.com has experienced remarkable growth since its establishment in 2012, necessitating a full review of its finance operations to manage the current and anticipated pace of growth. One of the key challenges was managing global payments and collections, while a smooth payment experience for customers through the platform was critical for the continued growth of the business client satisfaction. Kiwi.com appointed Citi to review their processes and systems, and together they developed a multi-faceted solution to meet current and future needs. This solution has been awarded a prestigious TMI award for Global Payments and Collections Solution.
The solution is based on CitiFX Instant FX, a multi-currency pricing solution that provides streaming and guaranteed foreign exchange rates, enabling Kiwi.com to provide local currency pricing to customers whilst managing foreign exchange risk effectively and streamlining payments. At the same time, the use of virtual card accounts allows Kiwi.com to lock in margins and increase efficiency and control over supplier payments. As the number of digital businesses grows, many of which operate internationally, the value of efficient payment and collection solutions with integrated foreign exchange risk capabilities will continue to increase.
As Juraj Strieženec, Kiwi.com's CFO, explains: "A fully automated global cash management solution was designed which allows us to receive payments in over 20 currencies to a single account destination with full control of foreign exchange conversion rates, as well as make payments in over 30 currencies without necessitating cross-currency payments."
"Our users now get even better prices for flight tickets and are no longer reliant on the unpredictable conversion rates provided by traditional bank technologies, payment processors and card schemes," Strieženec adds.
Michal Nebesky, Citi Country Officer in the Czech Republic, where the solution for Kiwi.com was developed, says: "The proliferation of digital businesses and rise of e-commerce means that the ability to offer simple payment methods to customers in any location across the globe is becoming increasingly important for business. The solution developed by Citi provides Kiwi.com with a convenient way to manage cash–flow, undertake business in a user-friendly way across the globe and manage risks associated with foreign exchange rates. This partnership showcases Citi's client-centric approach and is an example of how we can actively engage with our clients to co-create innovative and effective solutions for the global market. We appreciate our cooperation with Kiwi.com and congratulate them for receiving this prestigious award."
Kiwi.com's CFO, Juraj Strieženec, notes: "Cooperation with Citi significantly helped us with our international expansion to different geographies, substantially decreasing the time required for account opening in different countries. Furthermore, from a treasury point of view, we appreciate the ability to have a live overview of current account balances in different geographies and easy options to transfer funds between geographies to effectively manage our cash flow needs. We explored various options, but we could not have found a more convenient solution than the one provided by Citi."
Established in 1998, the TMI Awards are firmly recognized as the quality benchmark for the treasury profession, formally recognizing those organizations and teams that are driving innovation and best practices in treasury management across the globe. 2017 saw TMI receiving the highest number of submissions for the Corporate Recognition Awards in the history of the competition. The awards were presented in London in February at a ceremony organized by Treasury Management International.  Further details about the award are available at www.treasury-management.com.   This is the second prestigious international Treasury Award for Kiwi.com, in 2016 Kiwi.com received the Highly Commended for Best Foreign Exchange solution Adam Smith Award from the distinguished Treasury Today Magazine.
In the photograph (from left): Pavel Knecht, E-commerce Sales Manager, Citibank; Alžběta Martišová, Head of Treasury, Kiwi.com and Juraj Strieženec, CFO, Kiwi.com