Is Katy Perry filming in Prague?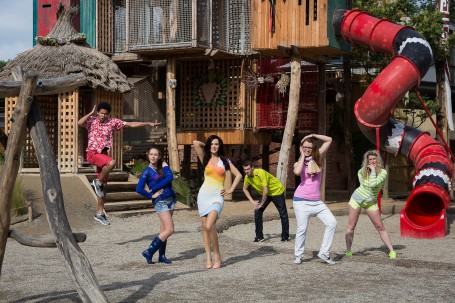 Pop star spotted performing in picturesque Czech capital
PRAGUE, 29 June 2015 – World famous Madame Tussauds caught the attention of passers-bys today with the creation of a realistic scene featuring international pop sensation, Katy Perry, who was spotted alongside several back-up dancers performing for a make-believe music video in a fairytale-esque location in Prague. Only upon closer inspection did viewers realize that it was Katy Perry's wax twin, as the setting was otherwise totally believable for the style of a Katy Perry music video, full of colors and crazy poses.
"I couldn't believe it wasn't actually her! She just looked so beautiful," said Prague local, Adela. "I'm a huge fan of Katy Perry, especially the empowering messages found in many of her songs – seeing her today in Prague totally made my day – and my daughter's as well!"
The Grammy-nominated pop superstar is visiting from Madame Tussauds' permanent exhibition in Berlin, and will join Prague's resident cast of celebrities: teen heartthrobs, Robert Pattinson and Taylor Lautner, fellow musician, Justin Bieber, funny-guy, Jim Carrey, top model, Heidi Klum, "Mother Monster" Lady Gaga, and blockbuster action stars, Will Smith and Bruce Willis.
Kieran Lancini, Global Head of Media Relations for Madame Tussauds said: "We are delighted with the positive reaction Katy received today. It's truly remarkable to watch people meet their idol, and placing our figures in natural environments gives our fans the opportunity to do just that. Our mission is to provide the most lifelike experience as possible, and of course once-in-a-lifetime selfie opportunities!"
The Madame Tussauds Prague Exhibition is located at the Prague Wax Museum in Old Town (Celetna 6) and is open daily from 10am – 9pm. Admission is included in the entrance price to the Prague Wax Museum, 160 CZK for adults and 100 CZK for children.