Flow East Art Hub Welcomes First Artists in Residence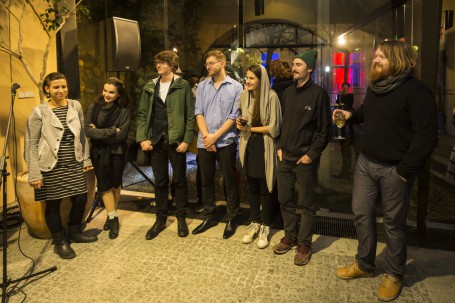 Prague, 7th December, 2015 – Flow East Art Hub, a free studio and exhibition space for artists living and working in Prague established by Flow East, the Anglo-Czech developer and heritage campaigner, formally welcomed its first artists in residence last Friday evening at a festive cocktail reception and exhibition held in its studios at Ericsson Palace in Old Town Prague.
Selected from more than 50 applicants by a committee led by Chief Curator of the National Gallery, Adam Budak, professor, art critic and former director of the Jindřich Chalupecký Award, Lenka Lindaurová, and independent curator, Jen Kratochvíl, the current Flow East Art Hub artists in residence are (alphabetically): Antonín Jirát, David Krňanský, Kateřina Holá, Ladislav Vondrák, Markéta Adamcová, Martin Lukáč, Monika Žáková, Petra Křivová, and Rudolf Samohejl.
'These talented men and women are elevating Prague's thriving art scene to a new level of meaning and recognition that reaches beyond Central Europe,' said James Woolf, CEO of Flow East. 'We are proud to serve as a platform for these young creatives and we wish them all the best in their artistic endeavours.'
Established as part of Flow East's 25th anniversary celebration, the Flow East Art Hub occupies a fourteenth century building, Ericsson Palace, at Male namesti (Karlova) and offers working facilities and exhibition space in central Prague for up to 10 artists through its six-month artist in residence programme.
More information about the project and registration at: www.arthub.cz