Emirates uncorks its finest wines from the cellar, launching the Emirates Vintage Collection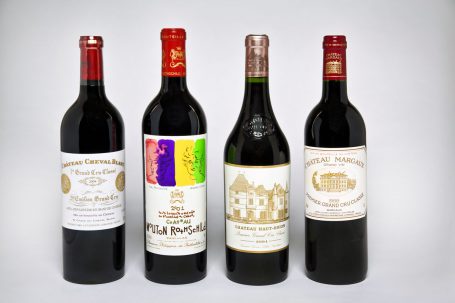 Wines have been stored for up to 15 years in Emirates' exclusive cellar in Burgundy
Emirates has launched the Emirates Vintage Collection – a selection of fine wines from its cellar in Burgundy which have been stored for up to 15 years. The four wines to be included this year are the Château Cheval Blanc 2004, Château Haut Brion 2004, Château Mouton Rothschild 2001 and Château Margaux 1998. Due to limited availability, these exclusive wines will be served in First Class on select routes for a limited period.
Since 2006, Emirates has been buying wines for long term storage, many of which were purchased 'en Primeur' or when they were still in barrel. The Emirates Vintage Collection represents the most prestigious of these wines, a rare selection that is difficult to source. The airline has managed to procure large parcels, thanks to its unique approach to buying wines. It has built direct relationships with some of the world's most prestigious vineyards to handpick and secure the most exclusive and rare wines for its customers.
"We went direct to the winemakers, handpicked these vintages and then cellared them for up to 15 years in Burgundy before we decided they were ready to be served. It has taken a great deal of patience, investment and long-term planning. Our aim has always been to surprise and delight our customers and they are in for a treat with this selection," said Joost Heymeijer, Senior Vice President, Inflight Catering, Emirates.
He added: "Every effort was taken to present the wines from the Emirates Vintage Collection in the best possible way. We spent time training our cabin crew, redesigning our glassware and creating a food pairing menu to ensure that when you savour these great wines on board, it's no different than the best restaurant in the world's top cities."
The Emirates Vintage Collection was launched on board last week on a special flight to Paris with the Château Cheval Blanc 2004. Arnaud de Laforcade, Commercial Director of the Estate, gave customers a surprise wine masterclass at 40,000 feet in the iconic Emirates A380 Onboard Lounge. The special tasting gave customers the chance to savour the Château Cheval Blanc 2004 and 2006.
Special dishes have also been created to be paired with each wine from the Emirates Vintage Collection. The airline's culinary team worked with its in-house sommeliers to develop dishes that would best complement the wines and offer a fine dining experience on board.
In keeping with its regionally inspired menus, a unique dish was chosen for each route and wine. On flights to and from Dublin for example, the Château Cheval Blanc 2004 will be paired with Irish grass-fed beef fillet served with a potato dauphinoise, creamed leek and spinach, baby carrots and a shallot jus. The same wine will be paired with a seared venison served with a thyme jus, blanched kohlrabi, baby carrots and broccolini on flights to Geneva.
The four wines will be staggered throughout the year on various routes in Europe, the Americas, Asia and Australasia. The selection is a testament to Emirates' continued investment in Bordeaux wines – a staple on its wines lists. Last year alone, the airline purchased USD 56 million worth of wines and champagne in France. Since 2006, the airline has invested USD 780 million in wine from around the world to give its customers an unmatched culinary experience on board. Today, the airline has a world class offering of over 80 fine wines and champagnes served across its network daily.
Over the next few years, more wines will be added to the Emirates Vintage Collection once they have reached optimal maturity. The Emirates cellar currently holds 4.7 million bottles of wine – some of which will only be served in 2027.
-End-
The Emirates Vintage Collection
Château Cheval Blanc 2004
Currently served on flights to the UK, Ireland, France, the Netherlands and Geneva for a limited period
Cheval Blanc is the leading estate in Saint-Émilion and the most famous Cabernet Franc-based wine in the world. Some vintages from this unique terroir are legendary, such as the 1947 which Robert Parker describes as 'the crown jewel in any millionaire collector's cellar'.
The 2004 has a perfumed nose of cherry, raspberry and rose petals. Medium to full-bodied, the palate shows candied strawberry and redcurrant laced with exotic spice. Firm tannins and succulent acidity provide perfect balance.
Château Margaux 1998
Scheduled on flights to Australasia and select Asian routes from June for a limited period
This spectacular château is often called the Versailles of the Médoc'. Andre Mentzelopoulos' daughter Corrine took over a vastly enhanced estate from her father in 1980 and following her father's lead, makes improvements with every vintage.
This 1998 has fresh plums, black cherries and spicy blackberries on the nose, with a hint of black tea and smoke. The palate is medium to full-bodied and peppery upon entry, develops with leathery notes, damson plum and the balance, grace and charm that epitomise the wines of this appellation.
Château Haut Brion 2004
Scheduled on flights to the Americas and the UK from October or a limited period
The oldest of the classed growths, and the only first growth outside the Médoc, Haut-Brion boasts an illustrious history with references from Pepys, Jefferson and a mention in the 1660 cellar ledger of English King Charles II. Its current regal credentials are just as impressive, with the management of the property now overseen by Prince Robert of Luxembourg.
The 2004 displays typical Graves aromas of blackcurrant and cigar-box with hints of black olive. The palate is medium-bodied and harmonious, with graphite-tinged black fruit caressed by tender, fine-grained tannins.
Château Mouton Rothschild 2001
Scheduled on flights to Germany and Austria from June for a limited period
Scheduled on flights to France, the Netherlands and Geneva from November for a limited period
The 1855 classification of Bordeaux's wines from first to fifth growth status was based on recent market prices for a vineyard's wines, with one exception: Château Mouton Rothschild. Despite Mouton's market price equalling that of Château Lafite Rothschild, it was excluded from the 1er Cru tier, an act that Baron Philippe de Rothschild referred to as "the monstrous injustice". After decades of intense lobbying by the Baron, in 1973 Mouton was finally elevated to "first growth" status and justifiably so, as it surely ranks as one of the best wines, not just of Bordeaux, but in the world!
The 2001 has a complex and open bouquet with notes of blackberry, forest floor, graphite and hints of orange peel. The palate is medium to full-bodied with fine tannins, superb acidity, great depth and a distinct mineral note to the tobacco toned finish.