ARPAD SZUCS APPOINTED NEW PASTRY CHEF AT FOUR SEASONS HOTEL PRAGUE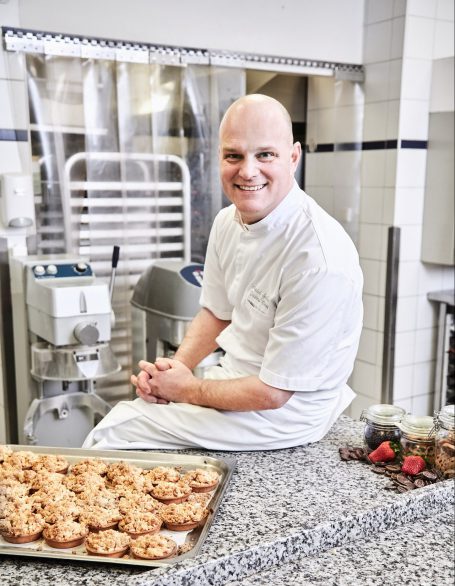 Four Seasons Hotel Prague has announced the appointment of Arpad Szucs as the new Pastry Chef. Arpad comes to Four Seasons Prague from Four Seasons Budapest.
Arpad Szucs is creating a new selection of high quality European style breakfast pastries and desserts for CottoCrudo and The Gallery. He started working as a pastry chef at the Four Seasons 12 years ago in 2006, first in Four Seasons Budapest, then Milan, London and Budapest again.
Arpad was born in Budapest. He fondly remembers his grandmother making strudel every weekend – usually two or three kinds – with apples, quark and poppy seeds or dumplings with homemade apricot jam. This inspired him to make his first desert aged sixteen, a Punch cake for his father.
Arpad's father was a great supporter of his passion for cooking. After telling his father he wanted to become a Chef, they went looking for a school and found the Taverna Gastronomy School in Budapest. Here he was exposed to all areas of cooking and discovered his love for pastry. He received two diplomas here.
After specialising in gastronomy in high school and university he went on to L'École Valrhona de Tain L'Hermitage – a famous and prestigious chocolatier school in France close to Lyon. It is the most prestigious pastry school in the world, not just any pastry chef can attend. After a week long course, the chefs feeling for pastry and chocolate is completely different and they receive a certificate to prove it. Valrhona chocolate has been described as the Rolls Royce of chocolate and it is one of Arpad's favourite ingredients to use.
Arpad loves to bake all kinds of homemade breads and loves to experiment with different doughs. Croissants, brioche, specialty Hungarian and Danish doughs are all part of his repertoire.  His favourite sweet thing to bake is šátečky filled with ricotta, a dough with yeast. His favourite bread to bake is Focaccia. He loves to use Italian ingredients for French recipes.
His confectionary is based on French high standards, putting local ingredients forward, inspired from the old middle class sentiment and creating top quality pastries and desert variations. Maintaining this high French standard Arpad also likes to mix in different traditions. Hungarian, Czech and Italian recipes are all brought together making him a truly Central European pastry chef.
His motto is 'Be passionate about work, motivate the team and learn something new every day. If you make a fantastic pastry or dessert one day, tomorrow make it even better.'
When he is not whipping up delicious pastries in the Four Seasons, his favourite desert to make at home for his wife and kids is a special Hungarian cake called Gerbeaud. Cooking must run in the family as his son is also following in his father's footsteps. He is currently cooking in the Intercontinental Hotel, Budapest.