Emirates to Launch Third Daily Flight to Nairobi and Bring Daily A380 Service to Sao Paulo and Tokio-Narita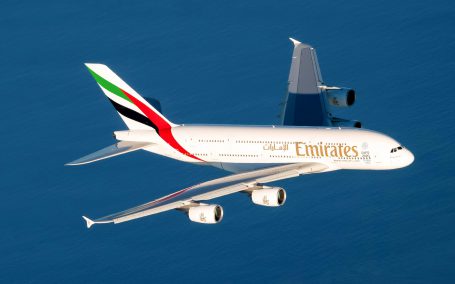 Emirates, the largest international airline in the world announced that it will introduce a third daily flight between Dubai and Kenya's capital Nairobi from 1st June 2017. The airline will operate the first ever scheduled commercial Airbus A380 flight to South America when it upgrades its Dubai – Sao Paulo service on March 26, 2017. From the same day Emirates will resume its flagship A380 service between Dubai and Narita. This follows the airline's recent A380 deployment to Moscow, and will take place after the upcoming launch of A380 services to Johannesburg. It will also coincide with the launch of A380 services between Dubai and Casablanca.
Third Daily Flight to Nairobi
The additional flight will increase the number of scheduled Emirates flights between the two cities to 21 a week and give customers greater flexibility and choice when planning their travel. It also underscores Emirates' commitment to Kenya and confidence in the route, which has grown to become one of the airline's busiest routes in Africa since it first launched services to the country in October 1995.
As with its other two daily flights between Dubai and Nairobi, Emirates will also operate its popular Boeing 777-300ER in a three class configuration. The aircraft will have eight private suites in First Class, 42 lie-flat seats in Business Class and 304 spacious seats in Economy Class.
Flight EK717 will become the first of the three daily departures from Dubai and leave at 0140hrs and arrive in Nairobi at 0540hrs, enabling customers arriving on Emirates' flights from India, the UK and many European countries such as France, the Czech Republic, Ireland, Netherlands and Italy to connect to the Nairobi flight within three hours. The return flight EK718 is also conveniently timed and will depart Nairobi at 0710hrs and land in Dubai at 1315hrs, ahead of Emirates' afternoon European flights and its fourth daily flight to New York, a popular destination for Kenyan travellers.
The flight will also provide 16 tons of additional cargo capacity on the route for Kenya's main export products such as flowers, fresh fruit and vegetables, as well as key imports such as mobile phones, pharmaceuticals and readymade garments, amongst others.
Emirates has a strong presence in East Africa and in addition to Nairobi, also flies once daily to Entebbe in Uganda, Dar es Salaam in Tanzania and Addis Ababa in Ethiopia.
A380 to Sao Paulo
Emirates is the world's largest operator of A380s, with 92 currently in its fleet and a further 50 on order. Since 2008, the airline has carried over 65 million passengers on its flagship aircraft. The airline will operate the first ever scheduled commercial Airbus A380 flight to South America when it upgrades its Dubai – Sao Paulo service on March 26, 2017.
Replacing the existing Boeing 777-300ER used on this route, the A380 service will mark the airline's 10th year of operations in Brazil, which it began with daily flights between Dubai and Sao Paulo in October 2007. Back then, Emirates had already made history becoming the first airline to connect the Middle East and South America with a non-stop direct flight service. In 2012, Emirates expanded its presence in Brazil with the start of a daily service between Dubai and Rio de Janeiro.
Sao Paulo will join more than 40 destinations on Emirates' global network served by its highly popular A380 aircraft, including Narita (commencing March 26, 2017), Bangkok, Hong Kong, Beijing, Taipei, Seoul, Shanghai, and Guangzhou. The introduction of Emirates' A380 service from Guarulhos International Airport, Sao Paulo, makes it possible for Brazilian travellers to fly only on A380s to their final destinations, particularly when to travelling to Asian cities, via Dubai.
From March 26, EK261 will become an A380 flight, leaving Dubai (DXB) every day at 08:35 and arriving in Sao Paulo (GRU) at 16:30. The return flight, EK262, departs Sao Paulo (GRU) at 01:25 and lands in Dubai (DXB) at 22:55.
Recently in October 2016, Emirates announced a codeshare and frequent flyer programme partnership with GOL Linhas Aéreas Inteligentes S.A ("GOL") allowing customers to purchase connecting flights on both airlines using one reservation, and a seamless ticketing, check-in, boarding and baggage check experience during the entire journey. Passengers booking flights from multiple destinations in Brazil with GOL, including Porte Alegre, Salvador, Belo Horizonte, Curitiba and Brasilia, will now be able to connect in Sao Paulo and fly the Emirates A380 to many destinations worldwide.
A380 to Narita
Emirates currently operates a three-class Boeing 777-300ER aircraft on its daily flights between Narita and Dubai. The resumption of Emirates' A380 service to Narita makes it possible for Japanese travellers to fly only on A380s to their final destinations, particularly when travelling to European cities, via Dubai.
Flight EK318 will depart Dubai at 02:40 and arrive in Narita at 17:35 daily. Return flight EK319 will depart Narita on Monday, Thursday, Friday, Saturday and Sunday at 22:00 and arrive in Dubai at 04:15 the next day, while on Tuesday and Wednesday, it will depart Narita at 21:20 and arrive in Dubai at 03:35 the next day. All times are local.
Emirates was named the World's Best Airline 2016 and the airline with the World's Best Inflight Entertainment at the prestigious Skytrax World Airline Awards. Emirates' offers travellers in all classes a comfortable journey on the 11-hour flight from Narita to Dubai with the finest food prepared by master chefs. First Class passengers can opt for the Kaiseki menu, while Business Class passengers have an attractive Bento Box option. Travellers can also look forward to Emirates' award-winning in-flight service from cosmopolitan Cabin Crew, of which Emirates employs around 400 Japanese nationals, and the best entertainment in the skies with Emirates' ice (information, communication, entertainment), which offers more than 2,500 channels including Japanese movies and music. Passengers can access Wi-Fi to stay in touch with family and friends during most flights.