Emirates Launches Second Daily Flight on Dubai-Prague Route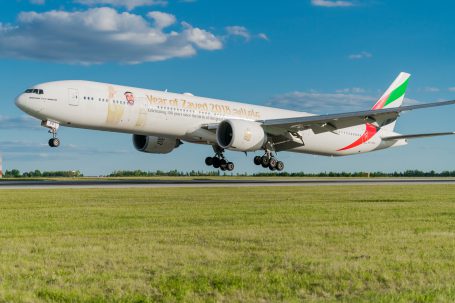 Emirates has launched a second daily flight between Dubai and Prague, to meet the increasing demand for travel on the route.
Emirates has been serving the Czech market since 2010 and during this time has carried some 1.7 million passengers on the route. To meet the rising demand for both inbound and outbound travel, the airline has added this new daily flight operated by a Boeing 777-300ER with a capacity of 360 seats, boosting tourism into the Czech Republic by 262,800 seats a year.
The new flight will accommodate three classes on board, with eight private suites in First Class, 42 lie-flat seats in Business Class and 310 spacious seats in Economy.
Flight EK137 leaves Dubai at 15:30 and arrives in Prague at 19:55. The return flight EK138 leaves Prague at 21:35 and arrives in Dubai at 05:30 the following day, giving travellers the full day in Dubai to kick-start their holiday, short break, or business trip, and take advantage of the wealth of activity and dining options the cosmopolitan city has to offer.
The service also provides seamless connectivity to Prague from several popular destinations in Emirates' and flydubai's combined route network, including Bali, Bangkok, Colombo, Hong Kong, Johannesburg, Kathmandu, Kuala Lumpur, Maldives, Mauritius and Singapore, with a convenient afternoon departure time from Dubai. Vietnam is a top destination for travellers from the Czech market, with Emirates serving both Hanoi and Ho Chi Minh City.  With this new service, customers travelling from Prague to Ho Chi Minh City will be able to take advantage of enhanced connection times in Dubai.
Trade links are also set to improve with the additional cargo capacity of up to 20 tonnes offered by the belly hold of the wide-body Boeing aircraft. Czech companies will now have further opportunities to export machinery, pharmaceuticals, perishables, glass and automotive parts to markets in the Middle and Far East, South-East Asia and Australia.
First Class and Business Class customers can take advantage of a complimentary chauffeur driven car to and from both Dubai and Prague airports as well as access to Emirates' exclusive airport lounges worldwide, including Premium airport lounge access on departure at Prague airport.
All customers can look forward to award-winning levels of care and comfort when travelling with Emirates, from the warm hospitality of its multinational cabin crew, to being entertained by ice, which offers up to 3,500 channels of on demand audio and visual entertainment from the latest movies to music and games. Customers also enjoy chef-prepared meals and complimentary beverages, while families are well catered for with dedicated products and services for children.
From now until 31 August, Emirates customers departing or transiting through Dubai can also enjoy complimentary ice cream at Dubai International Airport. Ice cream cups will be given out at the Terminal 3 departure and transit areas for all customers travelling from or through Dubai. The ice cream, branded Emperor, is made in-house by Emirates Flight Catering (EKFC) and the airline expects to serve two million cups of ice cream to its customers over the next three months.
The new flight route complements the existing daily schedule operated by an Emirates A380, which currently departs Dubai at 08:35 as EK139 and lands in Prague at 13:00, and returns as EK140, departing Prague at 15:55 and landing in Dubai at 23:50.