Emirates Group announces half-year performance for 2017-18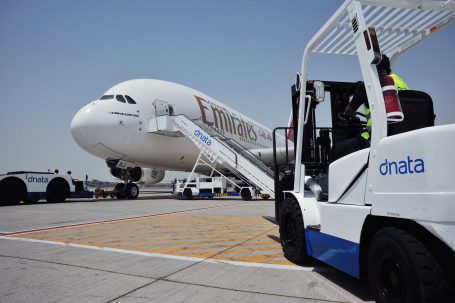 The Emirates Group today announced its half-year results for 2017-18. The Group saw steady revenue growth and a rebound on profitability compared to the same period last year, in spite of the continuing downward pressure on margins, a rise in oil prices, and other challenges for the airline and travel industry.
The Emirates Group revenue was AED 49.4 billion (US$ 13.5 billion) for the first six months of its 2017-18 financial year, up 6% from AED 46.5 billion (US$ 12.7 billion) during the same period last year.
Profitability rebounded after a low during the same period last year, with the Group reporting a 2017-18 half-year net profit of AED 2.3 billion (US$ 631 million), up 77%.  This result was driven by capacity optimisation and efficiency initiatives across the company, steady business growth, and a more favourable foreign exchange situation compared to the same period last year.
The Group's cash position on 30th September 2017 was at AED 18.9 billion (US$ 5.2 billion), compared to AED 19.1 billion (US$ 5.2 billion) as at 31st March 2017.
His Highness (HH) Sheikh Ahmed bin Saeed Al Maktoum, Chairman and Chief Executive, Emirates Airline and Group said: "A lot of the credit for our 2017-18 half-year results goes to our talented workforce who have worked hard to improve our business performance, and address our challenges without compromising on quality and service.
"Our margins continue to face strong downward pressure from increased competition, oil prices have risen, and we still face weak economic and uncertain political realities in many parts of the world. Yet, the Group has improved revenue and profit performance. This speaks to the resilience of our business model, and the agility of our people.
"The easing of the strong US dollar against other major currencies helped our profitability. We are also seeing the benefit from various initiatives across the company to enhance our capability and efficiency with new technologies and new ways of working.  Moving forward, we will continue to keep a careful eye on costs while investing to grow our business and provide our customers with world-class products and services."
In the past six months, the Group's employee base reduced by 3% compared to 31 March 2017, from an overall staff count of 105,746 to 102,669. This was largely a result of natural attrition together with a slower pace of recruitment, as various parts of the business adopted new technologies, streamlined business processes and re-allocated resources.