Double-digit growth for CHEP in the Czech Republic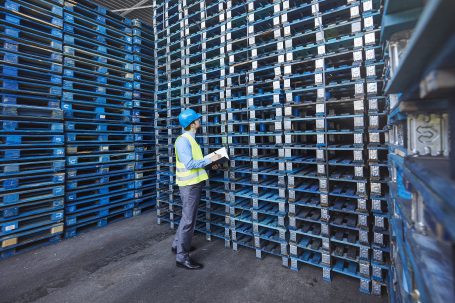 The local branch of CHEP, the global leader in supply chain solutions, increased its net sales by 26 % in the fiscal year ending June 30, 2019, as compared with the results from the previous fiscal year. CHEP also recorded significant growth in the volume of pallets issued to customers, with a year-on-year increase of 20 %.
The increase shown in these figures was fuelled by an increased demand and higher issue rate for blue CHEP pallets to existing customers as well as by the expansion of CHEP's client portfolio. International interest in improving supply chain efficiency and sustainability through the use of pallet pooling has strengthened cooperation with FMCG producers, who constitute a key part of CHEP's activities in the Czech market.
"During the previous marketing year, CHEP continued to increase its turnover and market share in the pallet pooling business," said Jan Kočárek, Country General Manager of CHEP in the Czech Republic and Slovakia. CHEP's estimated market share is 18 %, making them the leading provider of pallet pooling and other supply chain services in the Czech Republic.
CHEP's goal for the coming financial year is to reach the broadest possible audience for the distribution and return of blue pallets, to strengthen their market position even further and to help improve the sustainability and operational efficiency of customers' businesses.
"The rest of the market is currently based on the model of pallet exchange between suppliers and customers. Such a solution may appear effective and easily manageable in the context of a small, local market, but in fact it brings hidden costs," explained Jan Kočárek. These costs include the need to link business capital to unproductive assets such as pallets, the employment of the workforce in tasks with low added value, such as repairing or sorting pallets, and, last but not least, carrying out unnecessary pallet accounting administration. "Given the growing interest in the benefits of pallet pooling, we believe that our market share will continue to grow in the next fiscal year. We also believe that pallet pooling will gradually push out exchanges between suppliers and customers, as has already happened in many of the Western European countries where CHEP operates."
Alongside the economic results of CHEP's Czech operations, the global results for the Brambles Group for the past fiscal year were also published. According to this report, CHEP's performance in the Czech Republic significantly outstripped general growth through the Europe, Middle East and Africa (EMEA) region, which on average recorded a 2 % year-on-year increase in net sales.