DARE TO DEFY THE NORM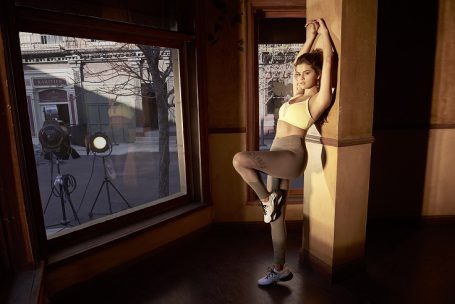 PUMA® is back at it, and defying expectations by launching its newest women's training silhouette, DEFY, spearheaded by PUMA Global Ambassador – Selena Gomez.
As the ultimate inspiration for daring women, Selena Gomez is the muse behind DEFY. She bravely opposes conventions and carves her own lane without apologizing. DEFY is a new and revolutionary training shoe. Its platform sole, inspired by the resurgence of the chunky-shoe-trend, defies training standards and goes beyond style. The platform fully supports side-to-side movement, includes PROFOAM (PUMA's energy return foam), and provides lightweight cushioning that adds functionality and brings style to training.
"To DEFY is to be brave" mentioned Selena Gomez. "It's about pushing the envelope and not obeying any 'expectations' placed on you by society.  PUMA has captured this feeling perfectly with their new DEFY training shoe.   I remind myself daily the importance of defying the outside noise and being true to myself."
PUMA's DEFY main tech benefits are:
COMFORT: PROFOAM provides instant cushion. Good things come to those who go get it.
SUPPORT: Super supportive. Kind of like your besties, but in sneaker form.
FIT: Knitted upper for a sleek, lightweight fit. Who knew a sneaker could be so cozy?
On May 16th, PUMA will host the launch of DEFY in Los Angeles at its revolutionary DEFY City located at the intersection of DEFY Expectations Ave. and DEFY Conventions St. The completely immersive experience will bring together different elements of the training shoe for guests to interact with in an unexpected way while walking around the fully converted studio lot. Whether they defy training expectations by dancing alongside PUMA's dancers, defy fashion conventions by strutting to their own beat, or defy the way they think of a traditional city by visiting a laundromat that does not lose your socks (finally!), guests will have a chance to interact with countless exciting touchpoints.
DEFY is here to encourage women to be a force to be reckoned with. A force that leads the pack. A force that reminds every woman out there that the only way to be you is to do you. So, DEFY conventions. DEFY norms. Dare to DEFY.
On May 10th, Gomez will release her new single "Back to You" off the soundtrack for the second season of the hit Netflix series "13 Reasons Why" for which she is an executive producer.
PUMA's DEFY will be available on May 31st at PUMA.COM and selected retailers worldwide.